A Philadelphia woman charged in connection to last June's fatal car crash that killed two people, including a young boy on the Atlantic City Expressway, appeared in court Tuesday for an arraignment.
Roselyn Kornegay, 45, was arrested on Thursday after turning herself in to New Jersey State Police.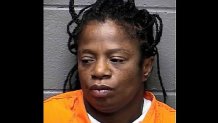 On June 20, shortly after 7 a.m., Kornegay was driving a white 1996 Ford F-250 pickup truck westbound near milepost 22.7 on the Expressway in Hamilton Township, NJ. As she was driving, officials say Kornegay lost control and struck a guardrail, causing the vehicle to overturn.

[[264050991, C]]
Kornegay, two passengers inside the truck's cab and three passengers who were riding within the truck bed, were all ejected from the vehicle, landing on the roadway.

The front seat passenger, 35-year-old James Dennis, was pronounced dead at the scene. Both Kornegay and the other front seat passenger, a 4-year-old boy, were taken by helicopter to Cooper University Hospital. The child died from his injuries around 3:30 p.m.
The passengers in the truck bed, Dion Kornegay, Brian Gregory and Shaniqua Abrams, were all transported by helicopter to Atlanticare Regional Medical Center where they were treated for serious injuries.
Police determined that none of the victims were wearing a seat belt during the crash.
"Being that all six passengers were ejected from the vehicle, it's safe to say they were not wearing their safety belts," said New Jersey State Police Sergeant Monica Nuhfer. "The fact that the child wasn't even in a seat belt is absolutely violating the law and the safety of the child."

After a joint investigation by the NJ State Police Fatal Accident Investigation Unit and the Atlantic County Prosecutor's Office, Kornegay was charged with death by auto, assault by auto and endangering the welfare of a child.

She was lodged in the Atlantic County Justice Facility in lieu of $100,000 cash/bond bail. Her arraignment is scheduled for Tuesday at 2:30 p.m.

PHOTO: Debris is strewn across the westbound lanes of the Atlantic City Expressway after this pickup truck overturned -- ejecting six people including two children.