An investigation is underway after a woman was struck and killed by a stray bullet while she was driving in Chester City, Pennsylvania.
Diana Davis, 62, was driving near 9th Street and Central Avenue shortly before 1 p.m. Monday when a gunman opened fire.
Two bullets struck Davis' vehicle and she was shot at least once in the side.
Davis was taken to the Crozer Chester Medical Center where she was later pronounced dead.
Surveillance video from a corner store shows Davis' car crashing into a telephone pole moments after the shooting. Two witnesses, who did not want to be identified, told NBC10 they ran over to help after the crash but knew the woman was dead the moment they saw her.
Police said a nearby vehicle with two women and a child inside was also struck by gunfire during the shooting. No one inside that vehicle was hurt however.
On Tuesday police revealed that a rounded style, light silver, Chevy Impala was involved in the incident.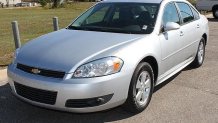 No arrests have been made in the shooting. Police said Davis was an innocent bystander. 
Local
Breaking news and the stories that matter to your neighborhood.
Davis worked as a school bus driver for the Chester Upland School District and was heading home after work, her employer said.
The shooting marks the 30th reported homicide in Chester this year. There were 18 reported homicides in Chester at the same time last year.
Anyone with information on the shooting or anyone who knows the whereabouts of the Chevy Impala or owner of the vehicle should call Chester City Detective Rhaheem Blanden at 610-447-8420 or email him at rblanden280@chesterpolice.org. You can also call Delaware County Detective Vincent Ficchi or email him at at 610-891-4681 or ficchivc@co.delaware.pa.us