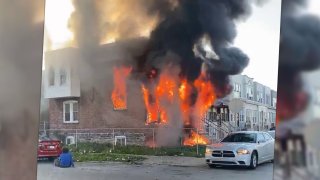 A 40-year-old woman and her two young children died in a fire in Southwest Philadelphia Friday evening, fire officials said.
The victims were not identified, other than their ages. The children were both boys, ages 4 and 1.
Firefighters arrived in the 2000 block of Bonnaffon Street, off Upland Street, at about 6:30 p.m. They pulled the woman and two children from the fire, but they each died a short time later, officials said.
A cause of the fire was not immediately known.