What to Know
Terrance Matthews faces murder and kidnapping charges in Burlington County for the killing of his ex's grandmother and young brother.
Burlington County prosecutors say Matthews streamed police chasing him on Facebook Live.
Matthews is being jailed while facing first-degree murder, kidnapping and weapons charges.
One day after a murder suspect led South Jersey police on a pursuit while streaming the chase on Facebook Live, he has been charged with killing his ex-girlfriend's grandmother and young brother.
Terrance Matthews refused to appear via video in front of a Burlington County judge Friday afternoon after being charged with first-degree murder in the deaths of 68-year-old Jennifer Vassell and her 9-year-old grandson Ishon Mathiln Jr. inside an Eastbrook Lane home in Willingboro.
The 23-year-old man is also accused of kidnapping his 22-year-old ex-girlfriend.
Police became aware of his crime spree Thursday morning when the woman told an employee at the Springside Road Wawa in Westhampton that Matthews had killed her family, Burlington County Prosecutor Scott Coffina said. Matthews then fled the store as the employee called 911.
Police later found the bodies in the Willingboro home where Matthews lived with the woman and his victim, a police criminal report said. Both victims were stabbed and Mathiln was also drowned in the bathtub, investigators said.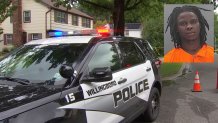 The killings took place after a fight Matthews and the woman had while she was at work Wednesday night, investigators said. Once the woman came home, Matthews exited his car and forced her into the home, the police report said.
Local
Breaking news and the stories that matter to your neighborhood.
He then showed her the body of both her grandmother in a utility room before asking her if she wanted to see her brother's body in a bathroom, the woman told police. Matthews then showed the woman the boy's body.
Matthews allegedly held her at knifepoint throughout the night, threatening her life multiple times, a police criminal report said. Matthews smoked a substance the woman believed to be K2, synthetic cannabinoid, during the early hours of Thursday, police said.
Matthews and the woman left the home around 7 a.m. At the Wawa, Matthews chased the woman around with a knife in the store before fleeing, investigators said.
Camden County police caught up to Matthews around 2 p.m. Thursday, prosecutors said. He then led officers on a high-speed chase before he crashed his ex's Scion car into a pole, investigators said.
Matthews streamed the police pursuit on Facebook Live, a handgun visible in his waistband, prosecutors and police said.
"Cops on me," the man said in a video that the prosecutor's office confirmed belonged to Matthews. Sirens can be heard in the background.
Moments before the video ended, he said, "Seat belt off. I love ya'll."
The suspect also posted to Facebook Live before the chase, according to a law enforcement source.
In both posts, the man was sitting inside his car shirtless and telling people he loved them.
Matthews admits in one video and in a phone call to his mother that he killed the boy and Vassell, police said.
After the crash, doctors treated Matthews for injuries before he was taken to county jail, prosecutors said.
In addition to murder and kidnapping charges, Matthews was also charged with possessing a weapon.
It is unclear if he has an attorney who could comment on his behalf.