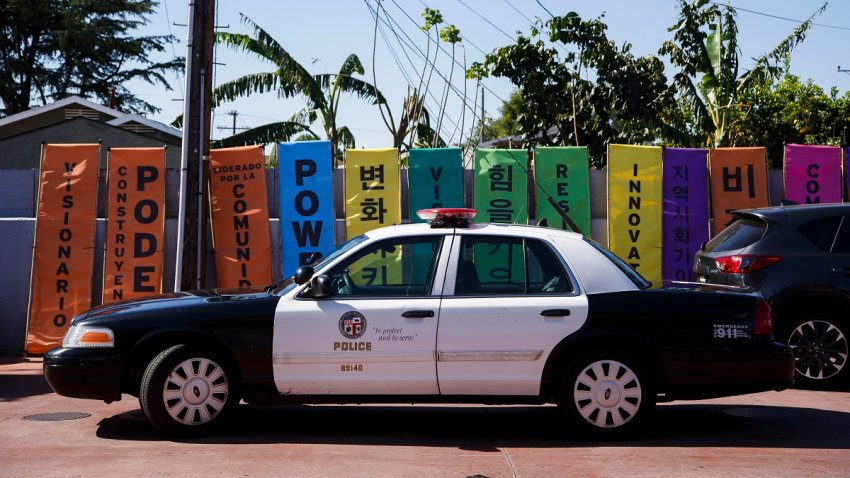 A former economics professor at the University of Pennsylvania who beat his wife to death inside their King of Prussia, Pennsylvania, home has been ordered to pay hundreds of millions of dollars to his daughter.
A jury ruled against 64-year-old Rafael Robb in the civil case against him Wednesday afternoon. Robb will now have to pay $124.26 million in compensatory and punitive damages to his daughter, 20-year-old Olivia Robb. It's believed to be the largest contested personal injury verdict in Pennsylvania history. Prosecutors believe Rafael Robb still has millions in assets.
The ruling wrapped up an emotional three days in which Robb faced his daughter for the first time since he killed her mother, Ellen Robb, eight years ago.
"Olivia Robb is finally free from the haunting, controlling terror of her murderous father," said attorney Robert Mongeluzzi of Saltz, Mongeluzzi, Barrett & Bendesky, P.C., which represented Ellen Robb's estate as well as Olivia.
"The jury's verdict honored the memory of a caring, loving mother and at the same time sent a thunderous message to Rafael Robb that he can no longer get away with his pathological lies, and that he will not be able to enjoy a life of luxury after his release in a few years," Mongeluzzi said.
Gary Gregory, Ellen Robb's brother and the administrator of her estate, was also satisfied with the verdict.
"We've waited for this moment for eight painful, tear-filled years," he said. "Finally there is justice for our beloved sister Ellen and her remarkable daughter, our niece, who can now finally feel emancipated from her father."
Local
Breaking news and the stories that matter to your neighborhood.
Some jurors cried quietly Tuesday when Olivia testified about the emotional impact of losing first her mother, and then her father. He eventually confessed to the crime and went to prison.
"I didn't believe it for a while," Olivia Robb said. "I had my suspicions, but it's your father."
Robb was an economics professor at the University of Pennsylvania in 2006 when he murdered his wife, who was about to leave the marriage. The violent and bloody details of the slaying were never revealed in a trial because Robb was able to plead guilty to voluntary manslaughter. He's serving a 5-to-10 year prison term.
Robb took the stand for more than two hours Tuesday, admitting he killed his wife and then tried to convince police it was a robbery. The damage to Ellen's face, head and skull was so severe detectives initially thought she was the victim of a blast from a high-powered rifle. Mongeluzzi confronted Robb on the stand.
"You beat her face in so badly that her brain came out of her skull," Mongeluzzi said.
"I did it," Robb admitted.
Robb said "yes" when asked if he "slaughtered his wife in the kitchen."
"The kitchen scene looked like a horror movie," Mongeluzzi said.
"I'm not denying that," Robb replied.
"And you created that horror scene," Mongeluzzi said.
"I'm not denying that either," Robb said.
The defense argued the murder was a crime of passion — that Ellen pushed Rafael during an argument, and he was so enraged he grabbed an exercise bar nearby and beat her to death.
Jurors believed the murder was premeditated, however.
Mongeluzzi's team profiled Robb as a controlling and emotionally abusive husband and father. He decided to murder Ellen, they argued, because her decision to leave the marriage meant he was losing control.
"For the first time ever, Rafael Robb took the stand and had his story demolished under cross-examination," said Mongeluzzi. "It was followed by the testimony of his daughter, who took the stand and faced down her murderous father and stood up for her mother."
Taking the stand with a box of tissues, Olivia recounted how she got off the school bus on December 22, 2006, to find ambulances and other emergency vehicles in front of her home.
When she asked what was wrong, a police officer didn't reveal that her mother had been murdered, but said instead she'd been gravely injured. Olivia wasn't allowed to go inside and went to a friend's house. She explained how she came to understand in a conversation with an investigator that her mother was dead.
"The detective just started crying and I knew that I lost my mother."
Every morning when she wakes up, her mother's murder is the first thing she thinks about.
"I think of all the moments that won't be there," she told jurors. "My mother was my best friend."
Robb glanced at his daughter periodically, but she did not look him in the eyes.
Olivia, who is now in college, said she never wanted to see him again. Her co-counsel, attorney Andrew Duffy, asked if she sometimes feels like she lost two parents.
"Absolutely. Absolutely," she said.