Since the weather satellite era began in the 1960's, Arlene is only the second named storm known to form in the Atlantic basin during the month of April. The first was Ana in 2003. Even more remarkable is the fact they both developed on April 20th.
According to forecasters at the National Hurricane Center, Arlene is not expected to pose any threat to land and as of 5:00 p.m. Atlantic Standard Time Thursday was located at 37.7N 42.0W about 800 miles west of the Azores Islands with maximum sustained winds of 45 mph, a minimum pressure of 993mb and is moving west-northwest at 22 knots. The storm is expected to dissipate far out in the central North Atlantic on Friday.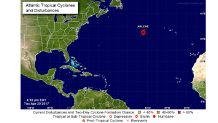 Tropical season in the Atlantic basin officially begins June 1st and ends November 30th each year, which is what makes Arlene so rare.
This year, the tropical outlook from Dr. Phil Klotzbach and researchers at Colorado State University calls for 2017 season to be slightly less active than average with 11 named storms including 4 hurricanes, 2 of which are major hurricanes category 3 or higher.
For comparison, an average season would have 12 named storms including 6 hurricanes, two of which would be major hurricanes.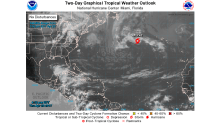 The expected downtick in named storms is due to cooler than average water in the far north Atlantic and the possibility of a weak El Nino pattern developing which creates stronger westerly winds in the upper atmosphere that can shear apart storms in the Atlantic.
Local
Breaking news and the stories that matter to your neighborhood.
The 2017 tropical outlook will be updated again on June 1st but at this point we can be guaranteed of at least 1 named storm in 2017.