Friends and family are mourning a grandfather and Vietnam War veteran who was struck and killed by an alleged DUI driver only a few blocks away from his home in the Tacony section of Philadelphia.
Norm Ewing, 73, was standing on the 6500 block of Torresdale Avenue at 4:23 p.m. Sunday when he was struck by a van that dragged him for more than two blocks. The van also struck six cars and plowed through several intersections on Torresdale Avenue.

"Everybody tried to stop him but they couldn't because the car was still moving," said Val Martin, a witness.
NBC10 obtained surveillance video showing the van finally coming to a stop and several residents surrounding the vehicle.

"I witnessed him hit the guy," said one man who did not want to be identified. "I seen it in my mirror. He hit the guy and dragged him at Torresdale and McGee to Torresdale and Levick."
The crowd kept the driver, identified as 32-year-old Luis Hernandez of Mayfair, in his seat until police arrived.

"It was insane," Martin said. "We had to literally go in his van and pull the keys out of his car."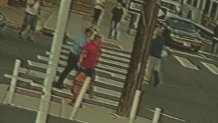 A witness told NBC10 Hernandez had a chicken bone in his mouth and was eating when police arrived. He was arrested and charged with murder, homicide by vehicle and DUI.

Local
Breaking news and the stories that matter to your neighborhood.
Ewing, a retired locksmith, died from his injuries. Family members say he was helping out a neighbor moments before he was hit by the van.
"He was changing a lock for a neighbor when the drunk driver came down the street," Ewing's daughter, Dawn Ewing, told NBC10.
Ewing is survived by four children and seven grandchildren. Family members say he was a Vietnam veteran who loved his country and the American flag.
"That shouldn't happen to anyone," Hilary Ewing, Ewing's other daughter, told NBC10. "A 73-year-old man being dragged down the street three blocks. That's the unbearable part."