Click here for the latest on the snow showers.
As the legendary Prince once sang, sometimes it snows in April. A First Alert has been issued for Pennsylvania, central and South Jersey and northern Delaware until 9 a.m. Monday due to expected snow. And no, it's not an April Fool's joke.
The fast-moving, yet potent, storm will arrive overnight into Monday morning. The system won't be a nor'easter but it will be a late season jab of winter.
Local
Breaking news and the stories that matter to your neighborhood.
EXPECTED SNOW TOTALS
2 to 4+ inches - Philadelphia, north and west suburbs, northernmost Delaware, Central New Jersey, Lehigh Valley
Trace to 2 inches - Central Delaware, South Jersey
Trace of snow - Jersey Shore, coastal Delaware
While it won't be a huge amount of snow, it is hitting during the toughest time to start a week, the Monday morning commute. It could fall hard enough at times to cause potentially slushy road conditions and restricted visibility during the commute.
WHAT TO EXPECT
Snow Begins: After 2 a.m.
Worst Conditions: 3 a.m. to 10 a.m. Monday
Impacts: Low visibility, some slushy roads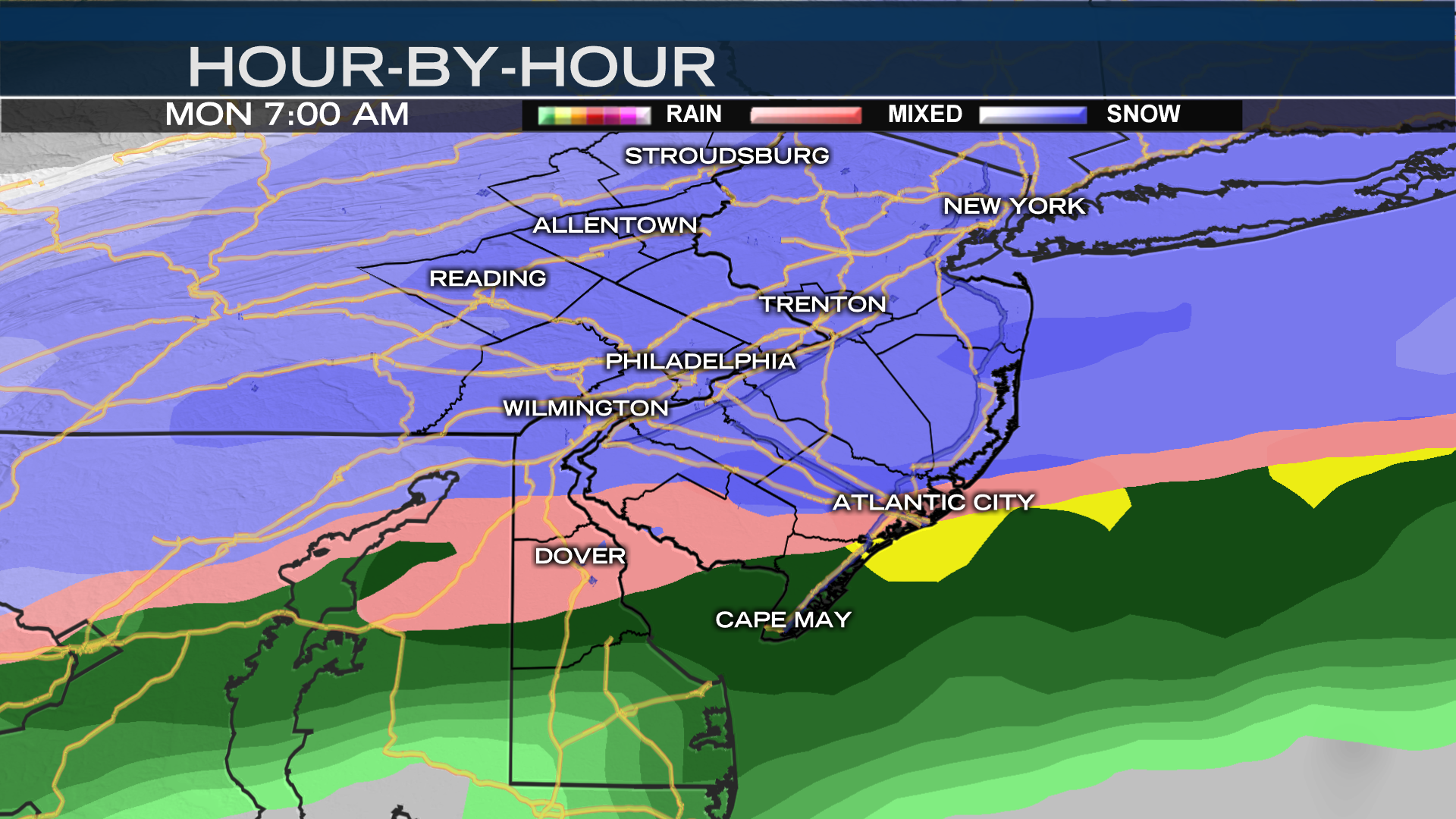 The snow will mostly stick to grassy/cooler surfaces, but roads will be wet and potentially slippery. Any periodic heavier bursts of snow could accumulate on roads and lead to a bit of slush. Fortunately, warm spring temperatures we've seen have made roads warm so the melt factor is high.
The system will move out quickly by Monday afternoon and temperatures will rise to the low 50s Tuesday with a chance of showers. Wednesday temperatures will reach the mid 60s but a few gusty thunderstorms are also expected. Fortunately the Phillies home opener on Thursday will be mostly sunny though highs will only be in the upper 40s.
Before the snow arrives, Easter Sunday will see cloudy conditions to start the day, but breaks of sun are expected in the afternoon with a high of 60 in Philadelphia.
SUN (EASTER SUNDAY): Morning clouds along with a spotty sprinkle or shower N & W. Then mostly sunny and milder. High: 60
MON: Morning snow tapering off to afternoon sprinkles. High 45
TUE: Chance of showers. High 53
WED: Windy with scattered showers & storms possible. High 66
THU (PHILLIES OPENER): Mostly sunny. High 49
FRI: Mostly cloudy, chance of showers, especially N & W. High 54