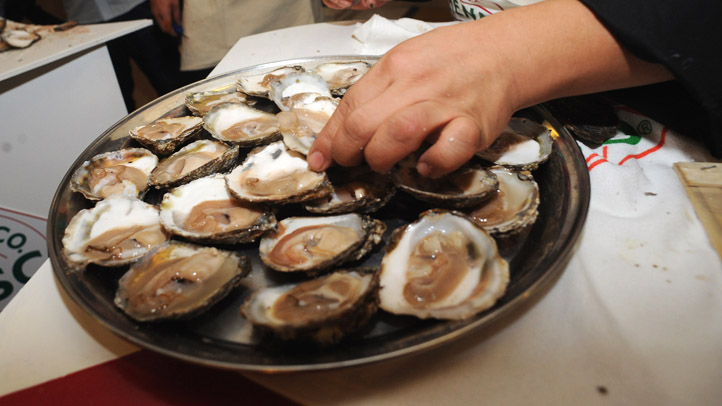 Lightly crusted with barnacles, Matt Gregg's oyster floats are barely visible as they bob in the waters of northern Barnegat Bay. Gregg snagged one, hauled it into his boat and shook out his livestock: thumb-size oysters, his life's work these last three years.
Right up until Sandy hit.
"I had probably 300,000 out here, and I'd guess I'm down to less than 50,000 now," Gregg told the Asbury Park Press of Neptune.
Local
Breaking news and the stories that matter to your neighborhood.
Like other shellfish growers, he sees an enormous potential for New Jersey baymen to profit from the revival of American oyster culture. "The kicker is I had oysters growing out there for a while. The first harvest was four days before the storm," he said.
Five months after Superstorm Sandy ripped across New Jersey's coastal bays, the Shore's shellfish industry is still struggling to recover.
Only now is Gregg getting his replacement vessel, a former New Hampshire lobster boat, to work. Southern Ocean County baymen just got their clam beds open as far south as Beach Haven last Friday. Northern Monmouth County clammers are still shut out from most of their grounds in Raritan Bay.
"We were closed five months," said Michael McCarthy, who with his father, Peter, raises clams near Beach Haven.
Every week since November, McCarthy and other baymen have been helping the state Department of Environmental Protection collect sample clams for testing, to determine when shellfish will be safe to harvest again.
"They did a good job keeping everyone safe," McCarthy said.
Shellfish beds were closed as Sandy bore down Oct. 29, a routine precaution in major storms because clams and oysters can be affected by pollution that washes in with heavy rain and flood tides.
Workers with the DEP said a lot of waters in Barnegat Bay tested clean in early November, soon after the storm. Raritan Bay had ongoing problems with leaks from the Middlesex County Utilities Authority sewer pumping station in Sayreville, which continued into January.
"They missed the Thanksgiving, Christmas, New Year's, Valentine's Day and Easter markets," said Gef Flimlin, a marine agent and shellfish specialist with the Rutgers Cooperative Extension.
Now it is a matter of waiting for the water to warm up and the clams to wake up and start pumping water through their bodies to purge bacteria, DEP officials say. Tissue samples are subjected to coliphage tests, designed to detect any traces of bacteria and viruses to make sure shellfish are harvested within state and federal health standards.
"Usually they start at around 50 degrees. We're almost there," McCarthy said.
At Middle Island in Little Egg Harbor, it may be taking longer because of the daily influx of colder ocean water from the nearby inlet, McCarthy said.
"I'm guessing it might be next week," he said.
Before the storm, Gregg was working hard to promote his brand: the Forty North Mantoloking oyster. He went to seafood festivals and food industry events, "trying to get my name out there."
As environmental regulations restore water quality on the East Coast, entrepreneurs are driving a renaissance of American oyster culture.
"There's all these little boutique oyster farms popping up in Long Island, Connecticut, down to Virginia," Gregg said.
New Jersey has great potential to grab part of that market, Gregg says. In the 19th and 20th centuries, its waters supplied much of the nation. Cape May salts, well-known branded oysters today, are raised in Delaware Bay by Atlantic Capes Fisheries of Cape May.
Brand name and regional identity are a huge advantage in that trade. Walk into restaurants like the Oyster House on Sansom Street in Philadelphia or Harry's in the Bally's Atlantic City casino, and menu boards list the oysters by the waters whence they came.
But as a startup, Forty North Oyster Farms was devastated by Sandy.
"Probably (lost) at least $150,000. My inventory is destroyed," Gregg said.
He talked to the federal Small Business Administration about a disaster loan, but says he was turned down.
So Gregg went online to start his own micro-capital fundraising campaign at gofundme.com/fortynorth. Contributors who put in $20 get a bottle of homemade hot sauce and a Forty North refrigerator magnet. The reward levels go up in steps, with incentives like sweat shirts, boat tours of the farm and discounted future oyster deliveries. For $2,000 Gregg and his crew will show up with a load of oysters and shuck for a house party.
Gregg cheerfully admits that he pestered DEP shellfish experts until northern Barnegat Bay finally was reopened.
"The bureau of marine water quality was out there every day and probably hated me, because I was calling them a couple times a day to test my oysters," Gregg said. "They're testing clams. The biology of a clam is totally different. A clam can be pumping five gallons of water a day, and an oyster can pump 50. I knew my oysters would purge a lot quicker."
Part of the reason is that the farmed oysters live in their floating cages, higher in the water, where there are more nutrients, Gregg said.
Gregg does all his work from the boat deck because the water on his lease is 8 to 10 feet deep, unlike leases in shallow water at the southern end of the bay, where baymen can wade in to tend their crop.
"I studied to do this," said Gregg, who worked on fishing boats and graduated from the University of Rhode Island's marine sciences program.
"This is what I love," he said.
Source: Asbury Park Press

Copyright AP - Associated Press