In Bensalem, Bucks County, the school district has spent hundreds of thousands of dollars on some 500 surveillance cameras in and around its facilities.
But the township police director, Fred Harran, doesn't think they are enough.
He is pushing for preventative measures on another front. Harran wants Pennsylvania lawmakers to give greater access to police for information about students: grades, medical records, attendance history.
"The key is making sure that person gets identified before they grab that gun, before they get into the building," Harran said.
The longtime crime fighter thinks the federal privacy law protecting information of students under the age of 18 should be updated in light of the tragic cycle of school shootings that have devastated the nation.
"I'm not saying share it with NBC, but share it with us. If not us than who?" Harran said of student academic and health records protected by the Family Educational Rights and Privacy Act (FERPA).

He believes no matter how effective cameras are, they won't be able to prevent school shootings. Still, privacy rights advocates including the ACLU of Pennsylvania are worried about the potential for overreach if FERPA ever was minimized.
"Granting police greater access to student records will actually get more kids into trouble who are not the potential school shooters," Harold Jordan of the ACLU said. "I think the harm is much greater than the benefit when it comes to granting police routine access in situations that are not emergencies."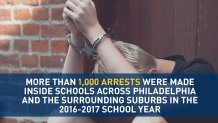 Already in place are hundreds of cameras keep watch over the hallways and entrances to facilities in the Bensalem school district, and Val Ridge keeps watch over the cameras.
Local
Breaking news and the stories that matter to your neighborhood.
The former police officer who now is safety and security coordinator at the district often sits with her eyes on numerous closed-circuit video feeds spread over numerous monitors. It's the surveillance hub for the district, and one of the most advanced of its kind.
"Any district that wants to see it, I want them to call," Ridge said in a recent interview.
In conjunction with the technology, the district also does active shooter and emergency drills to keep its students and staff mentally prepared.
Superintendent Sam Lee said Bensalem's technology and consistent preparation for dangerous situations have come about in an era of school shootings like Parkland, Florida, and Sante Fe, Texas.
"My heart goes out to them. I can't imagine it," Lee said. "That's why we do what we do, to keep it away from us."