A teen died from his injuries while his teen sister was rescued after sand collapsed on them at a beach in Toms River, New Jersey.
Levi Caverly, 18, of Maine, and his 17-year-old sister were visiting the beach near Seaview Road with the rest of their family around 4 p.m. Tuesday.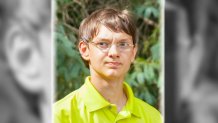 Police said the siblings were using frisbees to dig a 10-foot hole in the sand when it collapsed on both of them.
"It looked like he was still in the digging process and that moment happened with the collapse of the sand," Seaside Heights volunteer fire battalion chief Tim Farrell told NBC10. "The loose sand from the top collapsing in on him and that moment happened within seconds, getting converted up very quickly."
Farrell, along with police and other first responders, arrived at the scene and helped rescue the girl, who officials say was up higher in the hole while her brother was at the bottom.
"She was speaking to us the whole time, finally able," Farrell said. "Took a long time to get her out and then we proceeded with the situation with her brother."
U.S. & World
Stories that affect your life across the U.S. and around the world.
While the first responders were able to get the girl to safety, they were unable to reach her brother in time.
Levi Caverly died during the collapse and crews worked to recover his body on Tuesday. A backhoe was brought in to help in the rescue.
"From my view, I could see a lot of people helping and trying to get that body out as fast as possible," Scott Ricchi, a Lavallette resident, said.
Caverly's father, Todd Caverly, was one of the people involved in the recovery effort. In a statement he sent to NBC10's Ted Greenberg, the father described his son as someone who was quirky, religious and a tech enthusiast who loved to program.
"Levi was himself," Todd Caverly said. "He was quirky. He was not real concerned about what others thought. He knew Jesus Christ. He was a tech nut and loved to program."
No lifeguards were on the beach at the time as they don't patrol the beaches before the Memorial Day holiday.
Toms River Mayor Mo Hill asked that people use caution and "be mindful" while digging holes on the beach.
Margate Beach Patrol Captain Chuck Labarre also said the deadly collapse was a reminder of how unstable sand can be.
"We recommend the edges of the hole that they're digging are less than a 45 degree angle," Captain Labarre said. "Don't go deeper than two to three feet."