Philadelphia is preparing for a battle against both the state and federal governments as Republican lawmakers reaffirmed their collective stand against sanctuary cities.
On Thursday, Pennsylvania Republican Rep. Martina White asked House members to support a new bill that would punish cities from declaring sanctuary status. Her memo echoed earlier attempts to pass HB 1885, which failed to pass in the state legislature last year.
"It is an insult to the citizens of Philadelphia that Mayor Kenney would willfully disobey federal law and continue to ignore the negative impact his dangerous policy has had on our citizens," White said in a statement.
Meanwhile, protesters in Philadelphia on Friday greeted GOP lawmakers at 30th Street Station as they left the city following their two-day retreat at the Loews Hotel in Center City.

Signs reading "Humans Aren't Illegal" and "Bye We Won't Miss You" greeted Republicans at the train station.
Paula Meninato was among the demonstrators. She carried a "Dismantle ICE" sign, alluding to the ongoing battle between President Donald Trump's administration and Philadelphia Mayor Jim Kenney. The Democratic city leader defied Trump this week by continuing to declare Philadelphia a sanctuary city.
"I'm really proud of our mayor for taking a stand against Trump and against his bigotry," Meninato said. "I'm also really proud of Philly for holding its ground and saying ... immigrant rights are important."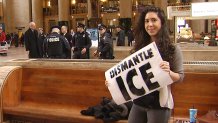 Kenney signed an executive order in 2016 declaring the city a sanctuary for immigrants. It "states that city authorities will not cooperate with U.S. Immigration and Customs Enforcement (ICE) detainer requests for undocumented citizens who are arrested and would have otherwise been released from custody, unless the individual has committed a first or second degree felony involving violence," according to the mayor's office website.

Later that same year, White introduced HB 1885, which would "hold any municipality that has deemed themselves as a 'sanctuary municipality' liable for damages to persons or property as a result of criminal activity' by undocumented immigrants."

The bill passed in the House, but failed to come to a complete vote before the state legislature concluded the 2016 session.

Undeterred, Kenney issued an open letter this week extolling the benefits of immigration and reiterating his pledge to welcome all new residents.

"Philadelphia is strong because we embrace our diversity and respect our differences. We do not choose between economic growth and helping those in poverty. We do not create a false choice between public safety and treating all people with dignity and respect. And we welcome all - no matter race, creed or country of origin - to contribute to our city and our democracy," he wrote.

Philadelphia stands to lose millions of dollars in federal funding if Trump makes good on his executive order to withhold funds from municipalities that defy his wishes.
Local
Breaking news and the stories that matter to your neighborhood.
In 2015, Philadelphia received $408 million in funds, the mayor's office said. Some of this funding is mandated by law and requires Congress' approval to be changed.
There are more than 300 sanctuary municipalities in the United States, including cities such as New York City, Chicago, San Francisco, Los Angeles, Austin and Boston.

"This is the two sides of immigration that I think are so important - one is the rule of law. Two is compassion for people and families," said Rep. Tom MacArthur (R-NJ.) "That's going to be the challenge for us."

Rep. Dwight Evans, a Democrat from Philadelphia, suggested that if the president wants to challenge cities individually or change the rule of law, he should take it up with lawmakers instead of issuing executive orders.

"The president is not the king or dictator," he said. "If you want to change the immigration laws, you should come to the United States Congress."

To that end, Evans speculated that Trump's executive order could end up in court. Already the American Civil Liberties Union is preparing for that eventuality.

"The executive orders signed this week by President Trump are legally flawed and are in deep contrast to our fundamental values as Americans," said Reggie T. Shuford, executive director for the ACLU of Pennsylvania.

"Trump's executive order on so-called sanctuary cities doesn't even bother to define the term. Local governments throughout Pennsylvania and around the country have chosen not to hold people in jail at the request of Immigration and Customs Enforcement unless that request is accompanied by a warrant, which is a reasonable stance based on constitutional principles."

On the other side of the aisle, Republican lawmakers pointed to the responsibility of cities to uphold the law.

"I'm not comfortable with municipalities ... that will tell their law enforcement not to collaborate with Immigration and Customs Enforcement," Rep. Charlie Dent (R-Pa.) said, adding that he would be comfortable with the federal government withholding community development block grant funding from sanctuary cities, such as Philadelphia.