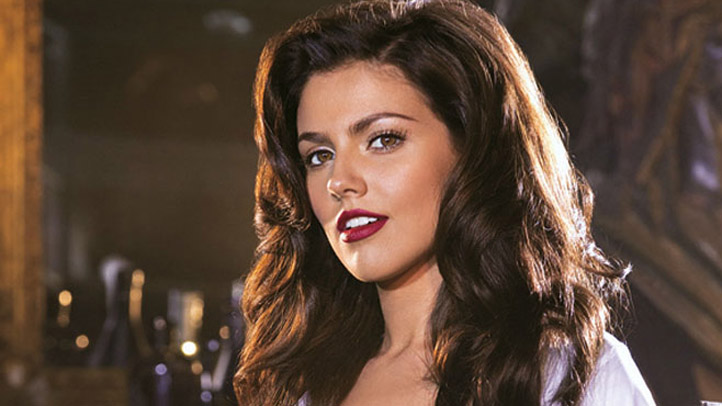 The centerfold of the most-well-known men's magazine in the world might look familiar. Playboy Magazine's Miss August 2013 is Northeast Philadelphia's own Val Keil. The 22-year-old is following the footsteps of other Philly-area Playmates like Shannon James (Miss May 2007), Lani Todd (Miss December 2001), Lindsey Vuolo (Miss November 2001), Kelly Monaco (Miss April 1997), Holly Witt (Miss November 1995) and Lorrie Menconi (Miss February 1969) and even all the way back to Delores Donlon (Miss August 1957) and Carrie Radison (Miss June 1957).
Just two months ago, Keil was living in Philly, bartending and spending time with her tight knit family. Now the MaST Community Charter School graduate is spending time at the Playboy Mansion with Hugh Hefner and other Playmates dreaming of helping kids and creating her own cowgirl boot line.

Beauty runs in the family for Keil, she says her aunt Linda was even a cheerleader for the Eagles. But she is the first in her family to take it all off for the world to see. Ahead of Keil coming home for the first time since she became a Playmate she answered questions about what it's like to be a Playmate, what she misses most about home, what she has to say for people who don't approve of her posing nude and how she wound up in stitches, literally.
Did you ever think you would be where you are now?

"No, not at all," she says with a laugh. "It's every girl's dream to think of these things, like oh my gosh I would like to go to the Playboy Mansion or to meet Hef or be a Playmate. But, I never thought I would actually be where I am."
Local
Breaking news and the stories that matter to your neighborhood.
How did you wind up needing stitches?
"I have a few stitches in my face, I had a little accident. It was a slip and slide accident. I kneed myself in the face and it was just like what a boxer would get. So I had to get that stitched up on July 5th.

"I was going down the slip and slide at the (Playboy) Mansion and I went headfirst -- so fast -- I was racing one of the other Playmates. And I got to the bottom and my body had nowhere to go so I guess from the momentum my legs came up and got me in the face."
What are the things you need when you're back in Philly?
"I love my soft pretzels, my Philadelphia soft pretzels with lots of yellow mustard from the Philadelphia Pretzel Factory. And I love Phileo Yogurt (on South Street)… I always get the cupcake batter ice cream and then I load it with tons of sprinkles. And Lorenzo's I love that!"
What's your fondest memory of home?
"I have a big family… I have about seven aunts and uncles that live within a four-block radius -- the blocks where I live in the Northeast they're tiny. I have a lot of family around the area. My grandmom lives right next door to me and there's always someone over there -- an aunt, a cousin, a friend -- it's always very packed so I'm always around my family and that is probably my fondest memory of growing up around Northeast Philly.
"The thing I miss most is my family. I talk to almost all of my aunts every day, my mom, my dad, my step mom, my step dad. I talk to my step dad a lot, you know what he's a big supporter too. I grew up being able to walk next door to my grandmom's house... That's hard to adjust to but I still talk to them over the phone and I do Facetime with my little brothers."
So how big is your family?

"I have a little bit of a Brady Bunch family. My parents had me, my (older) brother and my sister -- it's me Sheri and Kenny. And my parents got remarried when I was young and my dad had two boys... My mom get remarried when I was young and I consider them my sisters.
"Coming from this kind of family that I have -- a divorced family -- we all get along so well. My entire life I can't even recall one fight we've had… there's never any fights in the Keil family, never. A lot of people know us in the Northeast as such a big family and everyone always says, 'I wanna be in your family, your family is awesome.' I think a lot of people look up to our family."
Who do you look up to?

"I look up to all my aunts. My aunts are my biggest support system. My dad is one of nine and I have six aunts on his side and then two on my mom's side. My aunts are totally my inspiration and that is definitely who I look up to. It's funny because they should have been Playmates -- they are all tall and beautiful but growing up they were more conservative.

"I still look at my aunts and they are in their 40s and reaching their 50s now and I'm just like, 'wow I hope I look like that.' They are just beautiful."

What does everyone around you think about you posing for Playboy?

"At first everyone was a little hesitant but everyone is very happy for me and they support me and they want to know everything that's going on. It's hard to keep up with everyone but I'm trying to do my best. I think they appreciate that."

Who is your biggest supporter?

"My sister Sheri. She's just 18 months older than me... She's there for me anytime of the day -- she's great. It's good because we are so close she is definitely my best friend but she would never do this herself. So there's no jealously or nothing like that, she supports me, she thinks it's awesome what I'm doing but she would never want to pose naked for a magazine."
What do you say to your detractors?

"I just tell them that I'm comfortable with it. I'm not doing anything wrong. I'm happy with my body, I'm not afraid to show it.

"I just warn them that I'm OK with it and in the nicest way possible that 'I'm OK with it and I don't care if you're not.' You don't have to look at it."
Where do you see yourself in 20 years?

"I hope to have a nice successful Playboy career. I plan on continuing my work with them for a long time -- that's what most Playmates do. I might not be in the spotlight the whole time... but I do plan on working for them for a while. Eventually my biggest goal in life is just to get married and to raise a family of at least six kids.

"… Growing up my number was eight, everyone was like, 'are you crazy?' But I come from a big family and I love being around family -- family is what you have especially when you have a great family like I do. I wanted eight kids but now I'm like that might not be realistic so I've lowered my number and now my number is six. I don't think that's going to change much but we will see."

If you want to meet Miss August, Keil is going to be hanging out at Reedy's Tavern on Frankford Avenue in the Torresdale section of the city from 2 to 10 p.m. Saturday.