What to Know
Suspect Keyon La-Shawn Carpenter ran off after police say he gunned down Joshua Mitchell.
Schools in the area kept children indoors as the search for Carpenter continued.
The slaying followed an argument in The Children's Plaza by Main Street, witnesses said.
The gunman wanted for chasing down and killing a man in a quiet Chester County town was taken into Philadelphia police custody Friday afternoon.
Keyon La-Shawn Carpenter fired at Joshua Mitchell and others after getting into an argument with Mitchell near the Children's Plaza at Bank and Bridge streets in Phoenixville around 9:45 p.m. Thursday, Phoenixville police said.
Mitchell tried to flee but Carpenter chased him down and fired a fatal shot into Carpenter's upper body, witnesses told police.
Carpenter, 21, ran away. Investigators found a stolen gun along his getaway route. Someone tried to "obliterate" the gun's serial number, police said.
Mitchell, 20, died a short time later at the hospital.
Carpenter was arrested by U.S. Marshals and members of the Eastern Pennsylvania Task Force around 3:30 p.m. in a home along the 5300 block of Baltimore Avenue.
At one point, Carpenter tried to get away as officials surrounded the southwest Philadelphia home he was in, but eventually surrendered without incident.
Phoenixville Police Chief Thomas Sjostrom called Thursday's shooting an isolated incident and said Carpenter likely didn't pose any threat to the community or schools. As a precaution, local schools kept students indoors for most of Friday.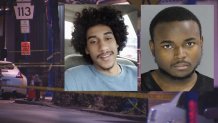 Friends called Mitchell a funny and goofy guy despite suffering personal tragedy. His older brother was gunned down, also at the age of 20, a few years ago, friends told NBC10.
Local
Breaking news and the stories that matter to your neighborhood.
A vigil was planned for 7 p.m. Friday at Children's Plaza.