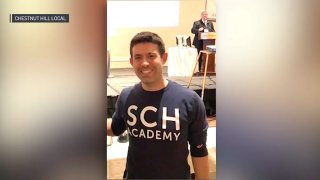 A former teacher at a Philadelphia private school faces child pornography charges.
The investigation began on July 12 when the company Dropbox submitted a tip to the National Center for Missing and Exploited Children accusing Andrew Wolf, 41, of uploading a video depicting suspected child pornography.
Wolf, a middle school and high school teacher at Philadelphia's Springside Chestnut Hill Academy, allegedly tried to buy sexually explicit videos of a 13-year-old boy in exchange for a PlayStation card worth $100 after communicating with the boy on Instagram, investigators said.
Wolf also appeared to have posed as a teenage girl on Instagram, TikTok and Snapchat while following young boys, according to court documents filed on Tuesday.
Wolf was arrested Thursday after the FBI executed a search warrant at his Philadelphia home. Investigators said they recovered sexually explicit videos and messages that had been deleted from his Dropbox account. Wolf was then charged with receiving child pornography, distribution of child pornography and other related offenses.
"Any adult who manipulates a child into providing explicit images of themselves, as alleged here, needs to answer for it," Bradley S. Benavides, Acting Special Agent in Charge of the FBI's Philadelphia Division, said. "It's especially pressing when the adult in question works with kids every day. Our Crimes Against Children Task Force is driven to keep identifying and investigating online predators. It's critical we protect children from such disgusting sexual exploitation."
During a hearing on Tuesday, Wolf was ordered detained pending his trial.
Local
Breaking news and the stories that matter to your neighborhood.
Wolf worked at Springside Chestnut Hill Academy for 18 years. A spokesperson for the school told NBC10 they fired Wolf on Friday after learning about the allegations against him.
"We are working closely with the FBI on their investigation, which was prompted by activity that occurred outside of SCH, over the summer, and while Mr. Wolf was on parental leave, SCH has absolutely no tolerance for such activity and is unyielding in its commitment to the safety of our students," Steve Druggan, the Head of Springside Chestnut Hill Academy, wrote.
While the criminal complaint did not say whether or not Wolf had any explicit photos of Springside Chestnut Hill Academy students, it did state that he had pictures of students from school trips.
"As far as we currently know, the photos Wolf took of SCH students on field trips, etc. were candid in nature and not necessarily photos that were taken without their knowledge," a school spokesperson wrote. "Though we are, of course, disturbed by the fact that they were taken in light of the court document, we never received any complaints from parents or students about Wolf. The latest court document states that these photos are still being reviewed by the FBI and, as we've said, we are working closely with them."
Parents of students told NBC10 the school put out resources on how to talk to their children about the allegations but it will be an ongoing conversation.
NBC10 reached out to Wolf's lawyer for comment. We have not heard back.
Correction: An earlier version of this story incorrectly attributed a quote. The attribution has been corrected.