What to Know
Philadelphia police officer Paul Sulock was shot in Kensington Wednesday morning.
Sulock is a 10-year veteran of the Philadelphia Police Department and a father of four.
He was hit by gunfire while attempting to break up a potential shooting, police said.
Two suspects are in custody after 31-year-old Philadelphia police officer Paul Sulock was struck by gunfire while attempting to thwart a shooting near Kensington, Philadelphia police said.
Sulock, 10-year police force veteran and married father of four, was shot in the right thigh, police said. He was rushed to a nearby hospital and remains in stable condition.
Sulock's father, also a police officer, was by his side as he recovered.
"We are very fortunate right now given those circumstances," Philadelphia Police Commissioner Richard Ross said. "He is in good spirits."
Chaos erupted around 11:10 a.m. near Madison and G streets in the shadow of SEPTA's Market Frankford Line.
Photos: Kensington Police Officer Shot
Sulock and his partner had been patrolling nearby when they saw two men crouched behind cars, possibly preparing to shoot at each other, Ross said. At least one of the men had a gun.
Sulock and his partner got out of their car and approached the two men. One of them opened fire on the police officers.
Local
Breaking news and the stories that matter to your neighborhood.
Despite his injury, Sulock chased down the suspects and apprehended one of them, Ross said.
"This is valor to the highest degree," Ross said. "[The officers] probably saved the life of the guy who shot him."
Surveillance video obtained by NBC10 shows one of the gunmen running away from the scene while Sulock's partner chases after him.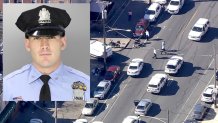 Sulock's partner and the two suspects were not injured, Ross said.
Philadelphia District Attorney Larry Krasner joined Ross and Mayor Jim Kenney outside the hospital where Sulock was being treated Tuesday. He promised swift justice.
"We are here to support this truly heroic officer," Krasner said. "We want you know that the District Attorney's Office is taking this case extremely seriously."
The matter will be assigned to the legal unit that handles homicide and shooting matters, Krasner added.
At least three dozen police cars from the city and SEPTA police departments flooded nearby Allegheny Avenue as the investigation continued. Armed officers could be seen running through back alleys behind homes in the area.
"I'm shot. I'm shot in the leg," Sulock could be heard saying over the police department's radio system after he was shot.
SkyForce10 was overhead as several other people were also arrested and taken into custody. Police will not try to piece together what led to the confrontation between the two suspects.