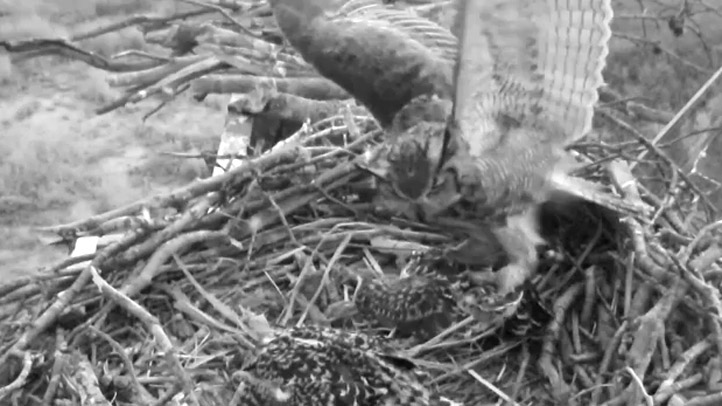 Two of the three osprey chicks born in South Jersey a last month were killed after a brazen attack by a great horned owl.
The entire attack was caught on a webcam focused on the osprey nest at Terrapin Cove in Maurice River, N.J.
Hugh Richards set up the cam after a couple ospreys made a nest on his Cumberland County property.
Local
Breaking news and the stories that matter to your neighborhood.
NBC10's Ted Greenberg spotlighted Richards' project a few days after the chicks were born.
The webcam feed was getting up to 9,000 hits a day, Richards said.
Some of those webcam viewers witnessed something shocking early Monday morning when the owl swooped in and literally grabbed one of the chicks away.
WARNING: The video could be disturbing to some viewers.
The owl also got a hold of another chick before the mother osprey fought off the attack. She was hurt during the confrontation, Richards said.
On Tuesday afternoon the mother and father osprey could be seen both keeping a careful eye on their remaining chick.
See how the remaining ospreys are doing by clicking here.
---
Fan, follow and download: Get the latest from NBCPhiladelphia.com anytime, anywhere. Follow us on Twitter, Facebook and NBC Philadelphia. Sign up for our breaking news newsletter. And, get breaking news delivered right to your mobile phone -- just text PHIBREAKING to 639710 to sign up. (Message and data rates may apply.)