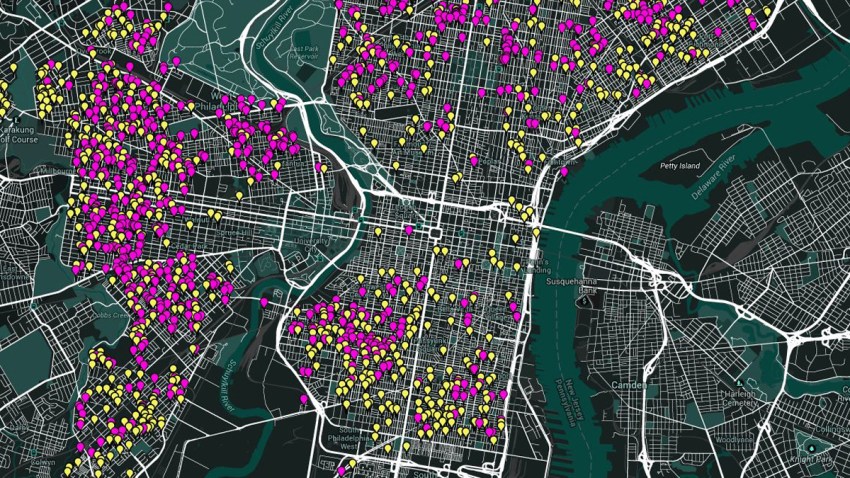 Like many first-time homebuyers, Alex Roscoe and his wife began their search by bargain-hunting.

"We're priced out of stuff already so we were trying to see if we can find a deal somewhere," 29-year-old Roscoe said. "And initially the Philadelphia sheriff's sale seemed like an interesting avenue to pursue."

The Drexel University alum started combing through the properties listed for sheriff's sale online, but he found searching for a low-priced home on the website arduous.

"Philadelphia is a very big city, so it is hard to tell where everything is located from their list," he said.

Instead of allowing the interface to deter him, Roscoe scraped the sheriff sale data and built his own website, SheriffRoscoe.com.

"I had to develop a script that went through each page [of the Philadelphia Sheriff's Office website]," he said.
The site displays the more than 3,000 properties set for the auction block across a searchable map. Parcels are color-coded to indicate whether the owner fell behind on taxes or mortgage payments. Click on a specific marker and essential information, like the scheduled auction date, opening bid, previous purchase price and market value, appear.

A research tab links out to other government sites so prospective buyers can find out if the real estate is involved in litigation or what potential property taxes they would pay as the new owner.

"When you are looking for homes, taxes could play a big part in it," Roscoe said. "Someone could eliminate a property based off that."
Roscoe spent nearly 40 hours developing the site, which earned him a prize at Philly Codefest.

"It is a cool and useful visualization on top of the relatively poor interface that was available," said Chris Alfano, a Code for Philly co-captain and one of the Philly Codefest judges who evaluated Roscoe's project.

Alfano says SheriffRoscoe.com could also help the city unload tax-delinquent properties.

"Through increased visibility and accessibility, more people become aware of these sales, which could lead to increased revenue for the city," Alfano said.
While one real estate expert admits the site takes some of the mystery out of buying properties at sheriff's sales, he cautions that acquiring a property through this channel can be complicated.

"A sheriff's sale auction is a process that the average investor, let alone the first-time investor, doesn't usually know," said Joe Herzog, a realtor with Coldwell Banker Preferred. "This is an even more valuable tool for an experienced investor. ...You don't have to read through 100 properties and find the zip codes that you like. It would streamline the research process."
Regardless of the steps required to purchase at auction, Herzog sees the site as a win.

"It is one less barrier to entry," he said.

And the Philadelphia Sheriff's Department sees the potential in showcasing properties listed for sale on a map.

"Something like this is in our future," said Joseph Blake, spokesman for Philadelphia Sheriff's Office. "We will make it uniquely our own."

But, Blake admits, there is no timeline in place for the creation and launch of its own version.

Until it is unveiled, SheriffRoscoe.Com is available to provide some clarity to a murky part of the real estate world.
Local
Breaking news and the stories that matter to your neighborhood.
---
Contact Alison Burdo at 610.668.5635, alison.burdo@nbcuni.com or follow @NewsBurd on Twitter.