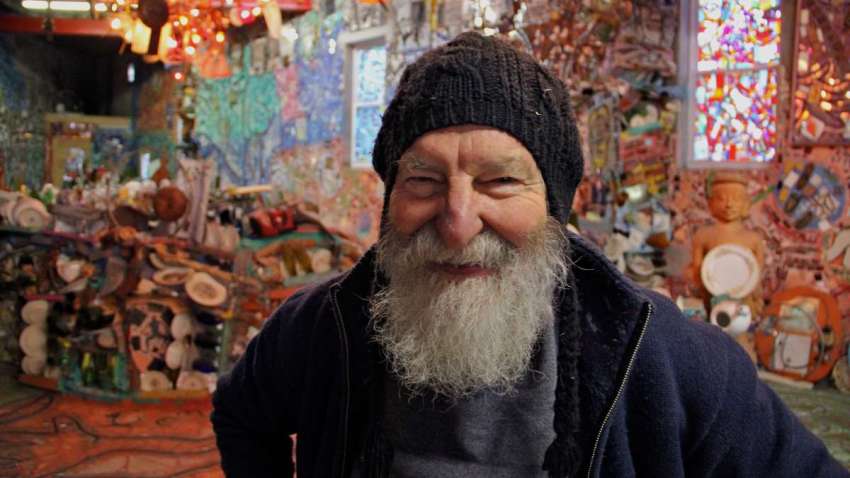 The creator of the legendary Magic Garden on South Street in Philadelphia will unveil his newest art space Monday evening.
Isaiah Zagar has been working on transforming a two-story building, once a supply warehouse, on Watkins Street in South Philadelphia – adjacent to the Neumann-Goretti Catholic High School – for eight years. He began as work on the labyrinthine, folk-art assemblage in the Magic Garden was wrapping up.
"I needed a new challenge," said Zagar, standing inside the 10,000-square-foot space. The square footage of mosaic embedded with found objects is much greater, considering that every surface of the floors, walls and ceilings is covered.
"Eat your heart out, Michelangelo. Eat your heart out, Piero della Francesca. Eat your heart out, Leonardo da Vinci," said Zagar. "You know, I want to eat their hearts because I love them. I'm a primitive man. I want to consume them."
Local
Breaking news and the stories that matter to your neighborhood.
The new space, still unnamed, is similar to the Magic Garden in that it is mostly broken-tile mosaics describing figures, with some passageways made of cement and found objects.
If the twisting grottoes of the Magic Garden can sometimes feel like a crypt, the Watkins Street building is a cathedral: the spaces are much more open, the ceiling is high, and windows allow shafts of light to rake the mirrored mosaics.
Zagar sees his work as a conversation between art history and his own id.
"Today I was sitting in Starbucks, and a very mysterious thing happened," he said. "A man walked in and sat down, and he turned into a portrait by Goya.
"Of course, I know why that happened, because I was just in Boston at the Goya show. His work impregnated me. When I walked through Starbucks, I was not thinking of Goya at all, I was thinking of my mocha. But there appeared Goya. I could not get that man to not be Goya."
Zagar will debut this space at a dinner party for paying guests featuring local barbacoa, a type of central Mexican barbecue. The 80 expected diners will be able to explore Zagar's artspace before he once again closes it to the public.
The work is not finished – some walls are still bare, the first-floor ceiling has not been started, and Zagar has a vision of creating a sort of cupola on the roof. He has no immediate plans to make it a public space.
"I can't describe it in words," said Zagar. "People ask, 'What are you saying with your art?' I can say, 'Well, peace and love.' But if it's only that that I'm saying, and you go away, you know nothing. You haven't experienced it."
Zagar is now 75 and does most of his work by his own hand, with assistance from students. He started the Magic Garden when he was 50, and it took 14 years. The more refined Watkins Street mosaics took half that time.
"My approach is one of evolution," said Zagar. "I want to work, until I die, in making art every day. This is an evolutionary process."
Copyright NWRK- Newsworks.org