Two people have been charged for their alleged role in a robbery and attack that led to a shootout in which two men were killed while exchanging gunfire inside a Chester, Pennsylvania, store.
Investigators said Jaquail Dale, 21, Lamont Mallory, 29, and Tahriq Doward, 29, attacked and robbed Lasantos Saunders, 30, inside the Sunoco A Plus market on 9th and Kerlin streets in Chester on Saturday around 4:20 a.m.
Investigators said Saunders was involved in a feud with at least one of the attackers.
Local
Breaking news and the stories that matter to your neighborhood.
"At this point it appears to be a beef between several individuals," Chester Police Commissioner Otis Blair said.
Employees inside the store were able to stop the fight and escorted Dale, Mallory and Doward outside, according to police. Saunders remained inside the store for his safety.
Moments later, Doward returned to the store and exchanged gunfire with Saunders, police said. Both men were struck in the shootout.
Saunders, who had been shot in the chest, drove away in a Chevy Impala. He stopped about two blocks away in the area of 10th and Concord Avenue. Police officers found him unresponsive in the driver's seat. Paramedics from the Crozer Chester Medical Center began to treat him at the scene where he was later pronounced dead.
Responding officers also found Doward on the ground outside the A Plus market. He was suffering from a gunshot wound to his torso and was pronounced dead at the scene by medics. Police also found weapons near Doward and Saunders.
John Thompkins, who lives across the street, said he heard three rounds of gunfire over the course of 30 minutes. The Army veteran is no stranger to gunfire but said the shooting being so close to home was difficult to process.
"I think we as a people – the city – we need to come together and find what's the impetus of this, what's causing this and what can stop it," he said.
After reviewing surveillance videos and speaking with witnesses, police determined Dale and Mallory were involved in the initial attack on Saunders inside the store.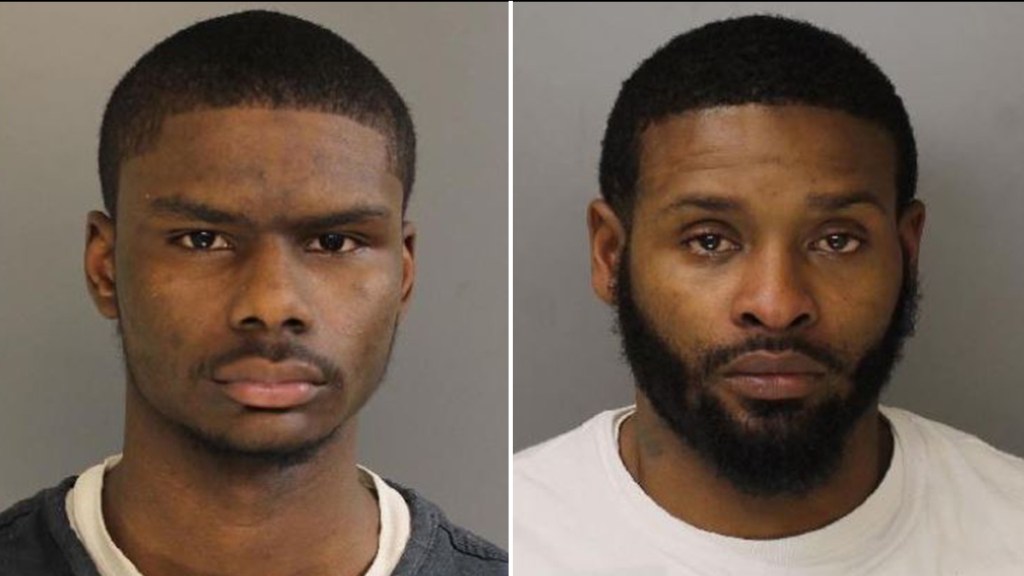 Both men were arrested and charged with robbery, aggravated assault, recklessly endangering another person and other related offenses. They have not been charged with homicide however.