What to Know
A man was shot and killed while walking his dog in Philadelphia's Brewerytown neighborhood Wednesday night.
Surveillance video shows two suspects robbing the victim and then one shooting Temple University graduate Milan Loncar in the chest, Philadelphia police said.
The dog wasn't harmed and was taken in by a friend of the shooting victim, police said.
A graduate of Temple University was shot and killed while walking his dog near his home in Philadelphia's Brewerytown neighborhood Wednesday night.
Milan Loncar was walking his dog, having just turned off 31st Street onto Jefferson Street just before 7 p.m., when two suspects approached the 25-year-old and tried to rob him, police said.
Surveillance video clearly captured the suspects reaching into Loncar's pockets, Philadelphia Police Chief Inspector Scott Small said. One of the suspects then opened fire, hitting the victim once in the chest.
"It didn't appear that there was any kind of fight," Small said when asked if the man was fighting back against the robbery.
Police found the man semi-conscious and bleeding from his chest, still gripping his dog's leash, investigators said.
Officers rushed Loncar to Temple University Hospital where doctors pronounced him dead at 7:30 p.m.
Local
Breaking news and the stories that matter to your neighborhood.
Loncar lived on North Corlies Street -- about one block away from where he was killed -- and would often be seen walking his dog in the area, neighbors told investigators. A friend took in the unharmed dog, police said.
Loncar majored in engineering at Temple and graduated in December 2019, the Philadelphia university told NBC10.
"Our college grieves for a life cut short in such a senseless manner," Keya Sadeghipour, dean of the Temple College of Engineering, said. "We will keep Milan and his family in our thoughts during this very difficult time."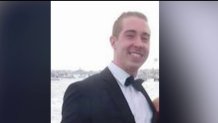 Loncar's mother, Amy Lounsberry, told NBC10 her son was just about a year into his job as a construction manager at Whiting-Turner.
"There's no reason to it. No reason to it," Lounsberry said. "He didn't have any money on him. He didn't fight back. He didn't say anything wrong. It's just too much. It's just not right."
Lounsberry said her son's girlfriend was about to move in with him.
"They had already started bringing stuff over," she said. "They were excited. Everything was coming together for him and it's just not fair."
The robbers, at least one wearing a face mask, ran off south onto 31st Street, Small said.
"I think these were kids. These were kids with guns," Lounsberry told NBC10. "How did they get guns? How?"
Thursday night, police released surveillance video and photos of both suspects.
The first suspect is described as a slightly husky person of medium height wearing a black hooded jacket, black baseball hat, black face covering, black pants and distinct athletic type shoes. He was armed with a semi-automatic handgun.
The second suspect is described as a thin person of medium height wearing a black puffy hooded jacket, white face covering, light blue denim pants with light spots and black ankle high footwear with white soles.
Small said that numerous surveillance camera angles will hopefully help them track down the killer.
A $20,000 reward is being offered for information leading to an arrest.
Lounsberry not only wants justice for her son but also answers.
"I would really like to know why," she said. "What were they doing? Did they really need money? Or were they angry and wanted to commit violence? I don't have those answers. And I would really like to understand why."
If you have any information, please call the Philadelphia Police Homicide Unit at 215-686-3334/3335.
Brewerytown is not normally a high-crime area. Amid the pandemic however, violence and "crimes of desperation" have increased, according to officials. Police said the neighborhood has seen two homicides, four rapes and 23 aggravated assaults in the past six months.
There are additional resources for people or communities that have endured gun violence in Philadelphia. Further information can be found here.