A massive tire fire in a Philadelphia junkyard could be seen for miles Tuesday afternoon before it was eventually controlled by city firefighters a couple hours later.
The blaze started shortly before 3:30 p.m. at a facility in the southwest section of the city, and the black smoke reached hundreds of feet into the air and began spreading out over the city.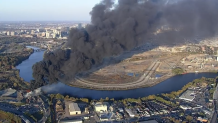 About 100 firefighters were battling the inferno by 4:30 p.m., authorities said.
South 61st Street was shut down between Lindbergh Boulevard and Passyunk Avenue, police said. There were no reported injuries.
The smell from the fire continued into Wednesday morning. Here's info on the stench.