A MERE TROPICAL DEPRESSION OVER PENNSYLVANIA
Agnes made landfall near Panama City, Florida as a "minimal hurricane" (Category 1). It weakened to a Tropical Storm by the time it hit near New York City on June 23rd, 1972. And then it weakened to a mere Tropical Depression as it curved westward into Pennsylvania, eventually dying there. Doesn't sound very threatening, does it? But it ended up being the worst natural disaster in Pennsylvania history. And I have a story to tell about it-and how it led me to team up with the late, great Jim O'Brien.
AGNES IN THE "DARK AGES" OF TV (What? No weather channel?)
If Agnes had just hit the Florida Panhandle and died as it went inland, no one would remember the name. It was early in hurricane season, and June storms are rarely intense and/or extremely damaging. I certainly wasn't concerned about it-home in Philadelphia waiting for my upcoming Penn State graduation ceremony. There was plenty of free time, since my job coming out of college was going to start in September. Hard to believe, but there was no Weather Channel or internet back then, so we had to watch the local stations.
But as the storm threat increased, my frustration did as well. I had just struggled through four years of calculus, dynamic meteorology, differential equations, and even atomic and nuclear physics in order to get a B.S. degree from the biggest (and best, of course) meteorology department in the country. PSU was known as "The Harvard of Meteorology". A Tropical Storm was headed right toward us, and yet I had to sit on my couch and watch non-meteorologists talk about the storm on TV.
Come on, how many times does Pennsylvania get threatened by a Tropical Storm? And I had just taken a course in Tropical Meteorology. I couldn't tweet about it, or comment on my Facebook page, since those things wouldn't be invented for decades. There was no internet or even computers to look at all the weather maps and come to my own conclusion about what would happen with the storm. It was just wait….and wait….and wait.
THE AGNES CURVE AND LOOP
Today, we're familiar with what Tropical Storms and Hurricanes can do if they make left turns as they hit the coast. Sandy was the classic example. Sandy made a sharp left turn in 2012, but even a gentle left turn was very rare around here. Agnes weakened to a Tropical Storm shortly after making landfall in Florida, but when it went back over the ocean off the North Carolina coast, it re-intensified into a Tropical Storm (see map below). It weakened again after hitting near New York City-back to a Tropical Depression. That meant no wind or storm surge threat, but rainfall was a far different story.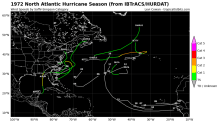 The tracking map above doesn't show what happened after Agnes weakened over southern New York State, but the remnants did a little, very slow loop and ended up over Pennsylvania. The map below is more of a close-up, showing not only the surface track, but the track of the upper-air LOW, which is what caused Agnes to stall.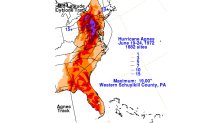 The slow movement added to the days of rain that came before the storm. And the ground was already saturated and rivers already high from the unusually wet June.
Most of the state got 6 inches or more of rain, but 8-12 inches fell in the Susquehanna River Valley from Wilkes-Barre to Harrisburg. The map above shows the maximum rainfall in Schuylkill County-an incredible 19 inches! Record flood levels occurred along the Schuylkill River all the way to Philadelphia. Even though we didn't get as much rain, the flood spread downstream. The flooding was especially disastrous at Reading and Pottstown. The Pottstown flood level was almost NINE FEET above the previous record.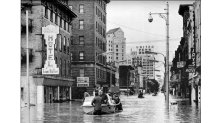 The flooding in Harrisburg was so bad that the Governor's Mansion had to be evacuated. Governor Shapp and his wife even had to be rescued by boat. More than 100,000 people were evacuated from their homes in Pennsylvania. There were 128 deaths in total attributed to Agnes, 50 of them in Pennsylvania. Among those were reporter Sid Brenner of WCAU-TV, and three others in a helicopter sent out to show the extent of the flooding.
Local
Breaking news and the stories that matter to your neighborhood.
CANCEL THE GRADUATION
I was home watching the whole thing, still stewing in the fact that I couldn't help in any way. And then Governor Shapp got on the radio asking that no one try to drive to Penn State for the graduation ceremony, because the roads were flooded. So, I missed my college graduation because of a hurricane. Kind of ironic, wasn't it ("Hurricane" Schwartz missed his graduation because of a hurricane!).
In case you're wondering: yes, we still get to have a diploma, even though it took a couple of weeks for them to mail it to me. And it has stayed on my office wall, no matter how many times I've moved over the years. And every time I notice it, I remember Agnes, and the horrible flooding. And I am so glad that younger generations are able to follow storms without the frustration of no information, or experts to watch as it approaches. Count your blessings, weather fanatics!