Funeral arrangements have been made for a local realtor who police say was gunned down by his ex-girlfriend as the two drove through a Northwest Philadelphia neighborhood.
A funeral service will be held for Terrell L. Bruce, 33, on Saturday, January 14, 2017 at Saint Raymond of Penafort Church on 1350 East Vernon Road in Philadelphia. The viewing will take place from 9 a.m. to 10 a.m. while the service will commence at 10 a.m. sharp.
Bruce was shot in the head Tuesday afternoon as he drove along Park Line drive in the city's West Mt. Airy section, police said.
In the passenger seat, police said, was his former girlfriend, 27-year-old Martina Westcott, who allegedly pulled the trigger.
Bruce lost control of his dark-colored Ford Expedition after being shot. The sport utility vehicle crashed into another car and flipped onto its side. He was found a few feet from the truck.
Witnesses told police they saw a woman running away from the crash scene. Officers carried out a search of the adjacent woods and Wissahickon Creek a short time after the shooting. They found a white jacket, stained with blood, but came up empty on a suspect.
Westcott, a Central High and University of Pennsylvania grad who recently pursued a master's in public health at Thomas Jefferson University, apparently ran to her mother's house in nearby Roxborough and confessed to the shooting, police sources said.
Local
Breaking news and the stories that matter to your neighborhood.
The mother called Philadelphia Police's 14th District and helped her daughter turn herself in. She was then questioned by homicide detectives and charged with murder.
Crime scene investigators found a small caliber handgun near the crash scene on Wednesday. NBC10 was there as they took the gun into evidence. Police sources believe it was the gun used in the killing.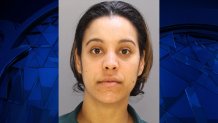 Bruce was a real estate agent with RE/MAX in Marlton, New Jersey. Family members described him as a "selfless, hard worker, widely known for putting the interests of others ahead of his own" in a post to a GoFundMe for his funeral arrangements.
Born and raised in the Mt. Airy section of Philadelphia, Bruce was a graduate of Roxborough High School and studied at Drexel and La Salle Universities. He continued to help out his community even after becoming a real estate agent, according to his twin brother Brandon Bruce.
"He wanted to be on the front lines of having people be able to afford their first homes," Brandon Bruce told NBC10. "He dealt with a lot of first home buyers. That's the people he saw needed probably the most guidance in terms of financial literacy. People who didn't have good credit, he would coach them. He did it pro bono."
"It wasn't about the money. It wasn't about the check. It wasn't about the business per se. It was about trying to help people."
Several years ago, Terrell Bruce set up a scholarship foundation in his other brother's name, Nathaniel M. Kirkland, after he died in 2009. The college fund provided eight scholarships since its inception in 2010.
Brandon Bruce told NBC10 his family has received an outpouring of support from his twin brother's friends and clients since his death.
"Just having people who have never met me, who wouldn't know me if I walked down the street tomorrow, just kind of reach out to me, direct messages and emails and through the GoFundMe page, share their stories and experiences of how nice he's been," Brandon Bruce said. "It's very moving and I appreciate it on behalf of the family. I'd like to see his legacy live on well beyond his years and mine."

A judge arraigned Westcott Wednesday night and had her held without bail. It's not clear if she has retained an attorney.
"I don't know what her connection was," Brandon Bruce said. "I think they may have dated in the past but it's a situation where somebody didn't want to let you move on."
"I hope she gets the stiffest penalty that's allowable under the law."
While Brandon Bruce is hoping that justice is served, he also told NBC10 he doesn't want his brother to be remembered for the way he died but rather for the way he lived.
"I don't want the last impression of my brother to be this tragedy," he said. "I want it to be what he stood for and what he was about. Helping people, service and keeping that indomitable Philadelphia spirit and always doing your best and trying hard."