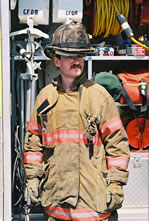 A former Coatesville assistant fire chief accused of setting two small fires in the arson-plagued town has worked out a plea bargain freeing him from jail.

Robert Tracey Jr., 37, got a sentence of 242 days -- time that he has already served -- to 23 months in prison after coping a plea deal with prosecutors.

The former firefighter admitted to setting two fires in March on and near homes as the city dealt with an arson crisis. He set a porch swing ablaze along the 600 block of Madison Street and a trashcan behind a home along the 100 block of Hope Avenue.

Tracey initially denied involvement in setting the fires and later used a drug buy as an alibi. He was ordered to stand trial, but later pled guilty as part of the deal.

The plea deal came as a surprise to Chester County Judge Anthony Saricone. He said he would never consider such a short sentence if Tracey had been convicted at trial.

Though skeptical, Sarcione approved the deal Thursday after both sides referred to the risk of going to trial.

Tracey is one of seven suspects arrested in connection with a rash of arsons in Coatesville. Almost 70 fires were intentionally set in Coatesville since February 2008.
Copyright AP - Associated Press