A former New Jersey high school football star and a Delaware teen are both charged in the death of a woman who was found by her father inside a Winslow Township farmhouse.
Tyler Dralle, 20, of Vineland and a 17-year-old New Castle boy are both charged in the murder of Deanna Scordo, 45. Police say their motive was burglary.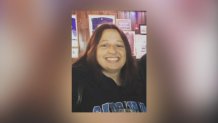 Winslow Township Police responded to a report of gunshots inside a farmhouse on the 700 block of Baridmore Avenue around 3:50 a.m. back on June 25. In a 911 call obtained by NBC10, Scordo's father told the dispatcher two men wearing black hoods broke into the home, shot his daughter and left her in a corner.

"My daughter is laying on the floor," he told the dispatcher.
"And she's shot?" the dispatcher asked.
"Yes," he replied.
Local
Breaking news and the stories that matter to your neighborhood.
When police arrived at the home they found Scordo on the floor suffering from gunshot wounds. She was pronounced dead at the scene.
The Camden County Prosecutor's Office and Winslow Township Police detectives pursued several tips and leads after Scordo's death. They later identified Dralle and the 17-year-old as the suspects.
Dralle was charged on Monday and arrested at his home without incident on Tuesday. He was remanded to the Camden County Jail. The New Castle teen was arrested and charged Wednesday.
Dralle was a standout football player at Buena Regional High School and was even featured on NBC10's High School Blitz. He later played linebacker at Mount San Antonio College in Walnut, California. He is set to appear in front of a judge for a pretrial hearing Friday.