A man was gunned down over the weekend as hundreds of people gathered to watch illegal street racing in the Port Richmond neighborhood, Philadelphia police said.
The 21-year-old -- later identified as Angel Rodriguez -- was on a green motorcycle as vehicles zipped up and down the 3800 block of Aramingo Avenue late Saturday night when he was shot multiple times in the head, police said.
He died a short time later at the scene.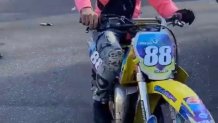 A masked man riding a dirt bike drove off from the scene, police said.
There were around 1,000 people using motorized vehicles as fireworks and loud music played around the time of the shooting, police said.
The motorcycle that Rodriguez was using prior to the shooting wasn't on there when police arrived. The bike didn't belong to Rodriguez, investigators said.
Local
Breaking news and the stories that matter to your neighborhood.
The deadly shooting took place just days after Philadelphia City Council closed a loophole that officially made ATVS and dirt bikes illegally on city streets. Police are allowed to confiscate such vehicles. Over the weekend, the crackdown led at least 37 vehicles being confiscated and no arrests, police said.