Philadelphia councilman David Oh expressed frustration about how to address violence in the city, even as he recovers from a deep stab-wound inflicted in an attack Wednesday night.
"It is a frustration ... how to address the violence, and the causes of the violence," Oh told NBC10, from his home, the afternoon after he was stabbed in an attempted robbery.
Oh, a Republican at-large councilman, returned home Wednesday night to the Kingsessing section of the city after a long day at work and was unloading his car along the 5800 block of Thomas Avenue around 9:45 p.m. when an armed robber stabbed him in the side, police said.
Oh's attacker — described as being in his 20s with a scruffy beard and dressed in black jeans, black sneakers and a black shirt with white writing — addressed Oh, according to Philadelphia Police Lt. John Walker.
The man demanded Oh's keys and other belongings and stabbed him.

"I took a step back and I said, 'You stabbed me,'" Oh said. "And, in fact, he had. He had a shank or a shiv."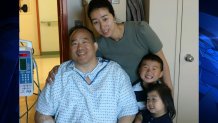 Oh, the father of four, was taken to Penn Presbyterian Medical Center where emergency surgery was performed, and where Oh was held overnight.
Local
Breaking news and the stories that matter to your neighborhood.
Oh's wife, Heesun, expressed her relief about her husband's recovery to NBC10 as she was leaving the hospital early Thursday afternoon. "Now I'm better," she said. "Now that I've seen him."
Oh was elected to Philadelphia's city council in November, 2011 and re-elected in November, 2015. He was the first Asian-American elected to public office in Philadelphia and is also the only military veteran currently serving in city council.
Mayor Jim Kenney, who is currently in Iceland, also released a statement:
"We are all praying for Councilman Oh's quick recovery and thinking of his family during this incredibly difficult time. Whenever violence happens on our streets it is a terrible tragedy. When it happens near our homes, where we are supposed to feel safe, it is all the more devastating. Anyone with information regarding this crime is urged to call 911."
Police are continuing their investigation of the attack and no arrests have been made.
[NATL] Top News Photos: Pope Visits Japan, and More
Copyright AP - Associated Press