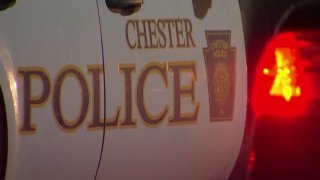 An 11-month-old girl was struck in the head by a bullet when a gun allegedly fell from a table inside a home in Chester, Delaware County, police said.
The baby is expected to survive, police said. The unidentified child was taken to Crozer Medical Center following the shooting around 7:30 p.m. Thursday and has since been transported to Nemours duPont Hospital for Children, police said.
City of Chester Police Department Capt. James Chubb said the girl received "intense medical treatment" and is listed in fair condition.
Officers responded to a home on the 400 block of Frank Young Avenue in the small city just south of Philadelphia International Airport after receiving a report of a child being shot. Family members had already rushed the girl to the hospital when police arrived, Chubb said. At the hospital were the girl's mother and other family and friends, he added.
The shooting will likely be ruled accidental, though the investigation remains ongoing, Chubb said.
Anyone with information is asked to contact detective Rhaheem Blanden at 610-447-8420 or rblanden280@chesterpolice.org.