Cody Lesher's Fleetwood, Pennsylvania home felt particularly empty Wednesday night after his pet cat was euthanized by an animal shelter despite having a microchip.
"I must have cried ten times today just thinking of little stuff that he does," Lesher said. "It's just a really upsetting situation and he didn't deserve that."
Lesher said his cat "Diddy," who he adopted with his girlfriend, ran away from his home Sunday. According to Lesher, Diddy had run away in the past but always came back. He also said the cat had a microchip that would allow a shelter to identify him.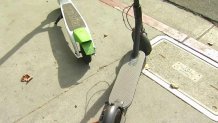 A neighbor later found the cat and brought him to the Animal Rescue League of Berks County. According to the shelter, which is based in Birdsboro, Pennsylvania, two staff members tried to scan the animal for a microchip but couldn't detect it. They then gave Diddy a physical and vaccinations before housing him in their cat area.
The next day, a staff member searched through their lost cat logs and social media to find out if the cat had an owner, according to Tom Hubric, the interim Executive Director of the shelter. Hubric also claimed Diddy became increasingly aggressive to the point in which staff members couldn't safely access his cage to provide proper care.
"I have a really hard time believing that," Lesher said.
Citing overcrowded rooms, not having enough staff members, and being unable to find other shelters that weren't at capacity as his reasons, Hubric said he then made the decision to euthanize the cat.
Local
Breaking news and the stories that matter to your neighborhood.
"It was a very difficult decision and one that I did not take lightly," Hubric wrote.
On Tuesday, Lesher arrived at the shelter and discovered to his horror the body of his beloved pet.
"When the owner informed us that the cat was originally adopted by us and it was microchipped, we did a third scan of the cat and found that the chip had migrated high up on his neck, likely close to the base of his skull and the two previous scans did not identify the microchip," Hubric wrote.
The incident came a month after the same facility euthanized a young child's collared cat less than a day after taking the animal in. The shelter fired a worker for what they considered bad judgment in that case.
"It just seems like they're not taking their job seriously," Lesher said. "There definitely needs to be changes for sure."
The shelter apologized to Lesher and the entire community for what they called a terrible situation. Hubric also wrote a list of changes the shelter will make going forward, which includes increasing their cat hold time period, better educating staff members on how to scan animals for microchips and holding a town hall meeting for citizens to voice their concerns.