A local man is taking to social media to ask for help to get his dog back after someone stole the dog from his Fishtown home during a burglary.
Gabe Hernandez, 39, and his girlfriend were in the process of moving to Mount Laurel over the past week, and Hernandez said one of his dogs, a 1-year-old Argentine Mastiff named Kazador, stayed at the old house in Fishtown as he prepared the new house for the dog's arrival. Hernandez went over each day to visit Kazador and feed him.
But on Wednesday, something was amiss when Hernandez got to the house, on Marlborough Street near Allen along the edge of the neighborhood near Penn Treaty Park. Hernandez said someone had unlatched a window to the house, climbed in, and apparently stolen Kazador right out of the home.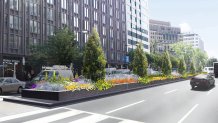 Now, Hernandez and his girlriend, Angela Weeks, miss Kazador, a gentle giant, terribly, and are hoping posts on social media and a police report will help bring him home.
"He's super sweet, loving. He just loves everyone," Hernandez told NBC10. "He's completely trusting, and he was probably just like, 'Oh, someone's here to play with me.'"
Hernandez said he's worried whoever took Kazador may harm him.
Local
Breaking news and the stories that matter to your neighborhood.
"He's a big dog, so whoever stole him might try to use him for dog fighting," Hernandez explained. "But it's not in his nature. It's not in his breed's nature. He just loves other animals."
Philadelphia Police's East Detective Division confirmed they're investigating the burglary and trying to help find Kazador. Hernandez shared a post with photos of Kazador, asking that anyone who may have seen him in the neighborhood or around the city to call him at 484-769-3335. Kazador is micro-chipped.
In the time Kazador has been gone, he missed the birth of his five puppies to the couple's other dog, Mirra, Hernandez said.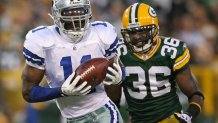 Hernandez said Kazador can also be dropped off at the dog's vet, Fishtown Animal Hospital, at 233 E. Girard Ave., no questions asked.
He implored whoever took the dog to bring him back, but said he's not planning to offer a reward for his return.
"I almost feel like it's kind of wrong to try to offer some sort of enticement or reward for someone who committed a crime. As much as I'd like to have the dog back, that only encourages criminal activity," he said.
"He's part of a family. He's got puppies here, you know?"
---
Anyone with information on the burglary should contact East Detectives at 215-686-3243. If you know Kazador's whereabouts, contact Gabe Hernandez at 484-769-3335, or return the dog to Fishtown Animal Hospital, 233 E. Girard Ave.