A Navy sailor from Cherry Hill, New Jersey, was officially identified Thursday as one of 10 sailors who went missing in a crash between a destroyer and a tanker Sunday off the coasts of Malaysia and Singapore.
The body of Electronics Technician 3rd Class Kenneth Aaron Smith, 22, is the only one to be recovered so far following 80 hours of search and rescue efforts in a 2,100-square-mile swath of sea east of the Strait of Malacca, the Navy said in a statement.
The multinational rescue efforts were suspended Thursday, but the Navy said divers will continue recovery efforts inside flooded compartments of the military ship where the bodies of the remaining sailors could be.
The crash occurred between the USS John S. McCain, a guided-missile destroyer, and a merchant vessel, the Alnic MC. The exact time, according to the Navy, was 5:24 a.m. Monday, Singapore time, or 5:24 p.m. Sunday, Eastern Standard Time.
"The incident is under investigation to determine the facts and circumstances of the collision," the Navy statement said.
Smith's mother, April Brandon, told NBC10 earlier in the week that her son was "a compassionate, smart man." His father, Darryl Smith, is also in the Navy.
"Kenny is an online sci-fi author, an animal and human rights activist, and a compassionate, smart man," she said.
Lexie Mullner, Smith's friend and former classmate at Cherry Hill East High School, said he always wanted to join the Navy and follow in his father's footsteps.
"He's one of the best people I know, he always has time for the people that he cares about," she said.
Local
Breaking news and the stories that matter to your neighborhood.
The McCain incident is the second collision between a U.S. Navy 7th Fleet destroyer and a ship in two months. In June, the USS Fitzgerald hit a Japanese merchant container ship. Seven sailors were killed in a crash that was blamed on a loss of "situational awareness" and "serious mistakes" by the crew.
On Wednesday, the vice admiral of the 7th Fleet was relieved of his duties.
The other nine sailors were identified as:
Electronics Technician 1st Class Charles Nathan Findley, 31, from Missouri
Interior Communications Electrician 1st Class Abraham Lopez, 39, from Texas
Electronics Technician 2nd Class Kevin Sayer Bushell, 26, from Maryland
Electronics Technician 2nd Class Jacob Daniel Drake, 21, from Ohio
Information Systems Technician 2nd Class Timothy Thomas Eckels Jr., 23, from Maryland
Information Systems Technician 2nd Class Corey George Ingram, 28, from New York
Electronics Technician 3rd Class Dustin Louis Doyon, 26, from Connecticut
Electronics Technician 3rd Class John Henry Hoagland III, 20, from Texas
Interior Communications Electrician 3rd Class Logan Stephen Palmer, 23, from Illinois
Smith is originally from Milford, Michigan, a town near Detroit, Brandon said. He moved with his father, Darryl Smith, to Norfolk, Virginia in high school. They later moved to Cherry Hill when his father, a naval Electronics Technician Third Class Petty Officer, was transferred to the area.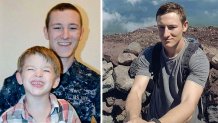 In a statement released through the U.S. Navy, Darryl Smith thanked those who've offered support to the family.

"I appreciate the courageous work of the crew in the aftermath of the collision and the on-going rescue efforts," the statement read in part.
The Alnic MC, a 30,000-ton, 600-foot long ship sailing under the Liberian flag, punched a large hole in the USS McCain's rear port hull when the two collided. Crew sleeping quarters, machinery and communications rooms were damaged. Five sailors were hurt in addition to those who went missing.