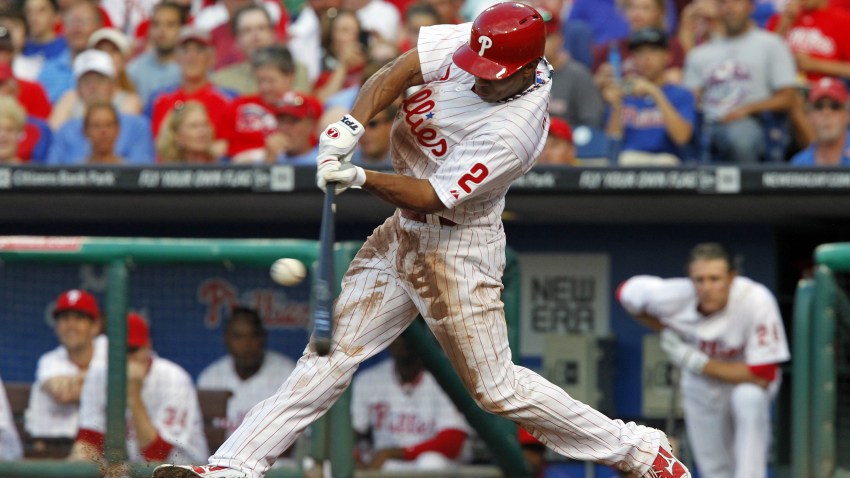 When the Phillies acquired Ben Revere in the off-season, there was a mild amount of rejoicing in Philadelphia, because his arrival signaled the beginning of what many hope is ultimately Ruben Amaro's mission statement for the foreseeable future: get younger.

The speedy outfielder, who turned 25 in May, was had for in exchange of Vance Worley (who got demoted to AAA after getting wrecked in 10 MLB starts) and Trevor May, a pitching prospect who hasn't quite blossomed like the Phillies had hoped. It was a fair price to pay for Revere, who is young, cost-effective, and most importantly, talented. What he lacks in power he makes up for in plate discipline, bat control, speed, and defense. With Jimmy Rollins on his way out, Revere was the obvious heir to the leadoff throne.

For all the fanfare, Revere didn't do himself any favors early in the season, thanks to an April that saw him hit .200 with one extra base hit in 90 at-bats. His on-base percentage was a disappointing .234. He stole all of five bases, which makes a lot of sense actually, because it's hard to steal bases when you can't get on base to begin with. In short, he wasn't off to a good start in Philly, which led to him losing playing time in favor of John Mayberry. It was a bad start to what was supposed to be a new era in Philly.

Thankfully, Revere put his April doldrums behind him, and has been a resurgent hitter for the Phillies ever since. He hit .312 during May, .354 during June, and through seven games in July, has a .387 batting average. Since May 1, he has a .343/.379/.406 line, with nine doubles two triples, and 16 stolen bases in 61 games, to bring his season line up to .300/.335/.350. While he's not hitting for power, Revere is doing what we all expected him to do by getting on base at the top of the lineup.

A big reason for that, to be frank, is luck. Since May 1, Revere is sporting a .380 BABIP, or batting average on balls in play. Without going too much into detail, most hitters will have a BABIP of around .300, meaning that 30% of balls that they put in play will fall for a hit. It's not an exact science, but it's a decent yardstick for determining whether or not a hitter is getting by on bloops and seeing-eye singles, or whether they are getting robbed by the opposing defense. Someone like Miguel Cabrera, for instance, is likely to have a higher-than-average BABIP thanks to his ability to hit line drives with reckless abandon, as hard-hit balls fall for hits at a higher rate.

But Revere, who is not a power hitter like Cabrera, has certainly been affected by luck this season, for better or for worse. During his April slump, his BABIP was .237, well below average. In May, it was .353. In June, .393. This month? .400. In other words, he's been on the right side of luck for the last two plus months. Does that mean that he's not really a .300 hitter? Of course not, but he's certainly riding a really fortunate streak right now. That's partially a bi-product of luck, but it's also the result of Revere seeing the ball really, really well. If you watch him in the box, it's pretty clear that he is locked in. He is using all fields, he is making solid contact, and he's using his most valuable asset – his speed – to turn outs into hits.

Whether or not he can keep this up the rest of the way, one thing is clear: he has been a blast to watch. While most of the offense has been hit-or-miss, Revere has been a joy to watch in the box as of late. He's doing exactly what we all thought he would do when the Phillies traded for him in the winter. Now, let's just hope it lasts.