Beloved American author Harper Lee may have passed away in February, but that hasn't stopped her from jumping on the anti-Trump bandwagon from beyond the grave.
On August 25th, 1990, the "To Kill A Mockingbird" author broke out her typewriter to craft not another novel, but a letter bashing the Trump Taj Mahal in Atlantic City.[[369424141, C]]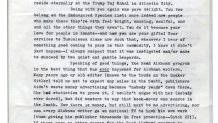 "The worst punishment God can devise for this sinner is to make her spirit reside eternally at the Trump Taj Mahal in Atlantic City," Lee wrote with heavy discontent while staying at the casino.
The letter was addressed to Lee's friend Ms. Doris Leapard and postmarked from New York.
Lee's letter concludes with a short note penned in blue ink: "Sorry about the scratchy typing- my typewriter sticks from the humidity." (Possibly a criticism of the hotel's humidity control.)
The letter is two pages, 8.5" X 11", in good condition, stapled to the original envelope.[[371306041, C]]
It is currently up for auction at Nate D. Sanders Auctions, which lists more photos of the letter and others belonging to Lee.
The auction ends Thursday, March 31 at 5 p.m. PT.
Local
Breaking news and the stories that matter to your neighborhood.
The highest bid at the time of publication was $1,330.