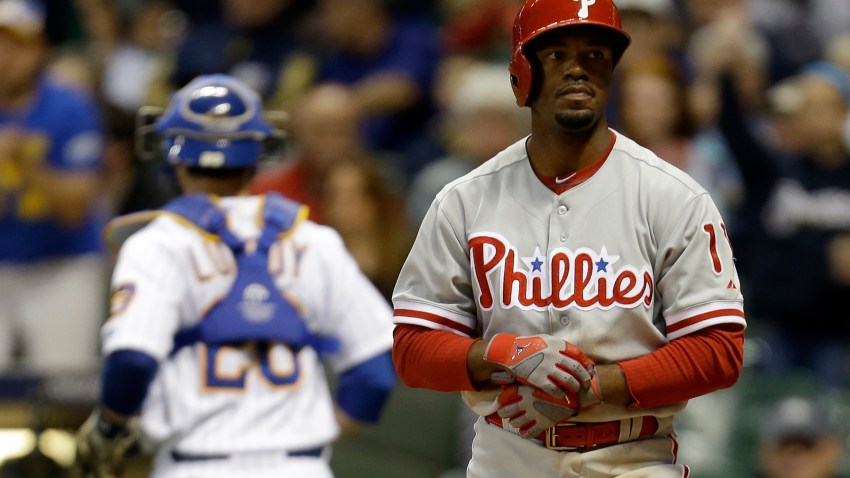 Last weekend, the Phillies charged into Milwaukee with a full head of steam, emboldened by a sweep of the lowly Miami Marlins that was fraught with excitement that gave even the most cynical the slimmest glimmer of hope that maybe this team could put something together if everything goes right.

For the first 13 innings against the Brewers, that was the case. They rode a strong start from Tyler Cloyd to a win on Thursday night (their fifth straight), and spotted Ace Cliff Lee four runs on Saturday evening, as they seemed to be a lock to win their sixth in a row to climb two games over .500.

As it happened, Cliff Lee couldn't hold the four-run lead, and the Phillies were bested thanks to a walk-off single in the bottom of the ninth. Flash forward to Saturday, where Kyle Kendrick turned in a solid outing despite not getting much by way of run support. Even with a late rally, the Phillies dropped the third game by a score of 4-3.

Sunday's game was a rout, as Jonathan Pettibone got trounced for six runs (four earned) in five innings of work, while his counterpart Kyle Lohse held the Phillies bats at bay to cruise to an easy 9-1 win to take the four game series.

In a nutshell, that series was a microcosm of their entire season: good enough starting pitching, poor situational hitting, and a lot of blown leads. While there were some bright spots, like Dom Brown's continued assault on opposing pitchers (he his .385 with a homer, two doubles, and three RBIs in the series), it was a bust of a series that also saw the Phillies lost Erik Kratz to injury.

While it felt great to sweep the Marlins, it should feel twice as worse to get manhandled by the Brewers in such a fashion. What should have been another easy series that catapulted the Phillies well over .500 ended up being a reality check that brought the team back to earth that made most of us realize that these Phillies just aren't very good.

There are glimpses of potential every now and again, but like the 2012 team, the challenges are too steep to overcome, and the writing is going to be on the wall, if it isn't already. The Phillies just don't have it this year, and the sooner they realize that, the sooner they can start to prepare for 2014. That means that, once again, they should be sellers at the trade deadline this season, where Ruben Amaro should look to unload any player that is on his way out or that isn't bolted down.

Knowing that, it should make the rest of the season easier to swallow. The bad losses are less and less of a surprise, and those dramatic wins are something that can truly be enjoyed. Will they go on runs that make us think that maybe they can make it back to October? Of course, that happens, but we shouldn't let that cloud our judgment about what this team really is.