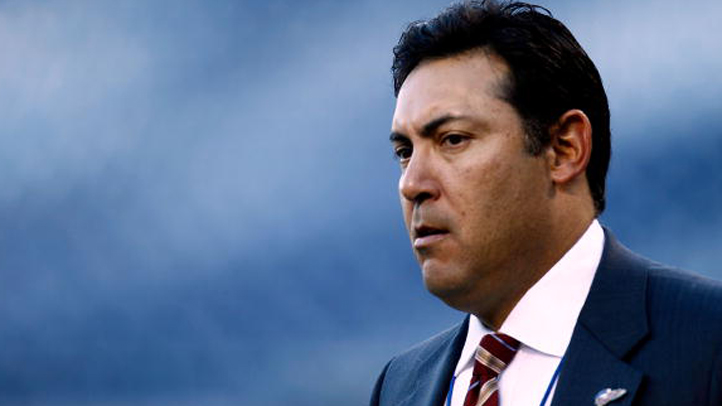 Since the season started, many wondered whether or not the Phillies would become sellers if things went south before the All Star break. For the first part of the season, it looked as if Ruben Amaro would have no other choice than to trade the likes of Michael Young, Carlos Ruiz, and Chase Utley, as the Phillies struggled to keep their heads above water and a .500 record. It seemed to be a pretty easy decision to make, but one that Amaro couldn't commit to in earnest, going as far as to suggest that their current ten-game home stand would ultimately determine whether or not they would become sellers at the deadline.

Following a series win against both the Pittsburgh Pirates and Atlanta Braves, as well as a pair of victories to open up a four game series against the Washington Nationals, it looks like the Phillies have found some new life in July. As such, Amaro has altered his stance on selling, and according to Buster Olney of ESPN.com, is possibly even looking to become a buyer to try to strengthen the team to make a run at the playoffs.

And as exciting as it sounds, it's really not a great idea for Amaro to even consider the notion of acquiring additional players. It's actually a bit of a nightmare scenario, because the potential for loss is so much greater. And not loss in the "the Phillies lost 86 games," but the loss of no potential prospects that could go a long way to ensuring the team is back on its feet in a season or two. If the Phillies decide against selling, they are losing out on the value that Chase Utley, Michael Young, Carlos Ruiz, Kyle Kendrick, and Jonathan Papelbon (among others) could bring on the trade market. They are losing out on shedding salary dollars while recouping valuable prospects that they were so eager to trade while putting together one of the greatest runs in the history of the organization.

Now, the loss of value would be totally acceptable if the Phillies were currently fielding a team that had a legitimate chance at snagging one of the two wild cards or overtaking both the Nats and Braves in the division. You'd absolutely exchange a World Series ring for a few prospects, for sure. But is that likely? It's not as if the offense is going to be getting some help any time soon, and the bullpen is what it is. There is a ton of time left in the season, and anything is theoretically possible, but you can't bank on the Phillies winning six out of every eight games the rest of the way. They are still a deeply flawed team with an awful bullpen and a below-average offense, and they would need to have every break go their way from now until the end of the season – not to mention needing every team ahead of them to hit the skids at the exact same time. This recent run of success and flirtation with a .500 record should not be conflated with the kind of surge that this team has been known to put together during the late 2000s.

Given that, it doesn't make a lot of sense for them to acquire pieces (like relief pitchers) that are ultimately unlikely to get them any closer to the playoffs. They possess no fewer than four players that can be traded for in exchange for valuable young players, and that is not something that they should (or can afford to) miss. It's a tough pill to swallow, this rooting for your team to sell, but it's the reality that the Phillies are faced with.

Does that mean we should root against them? Of course not. I'm going to have as much fun as possible watching this team in 2013, even if it means saying goodbye to some of my favorite players. We've all become so used to his team being buyers at the deadline that an honest-to-goodness fire sale is going to feel really, really weird. They came close to doing that last season, but that figures to pale in comparison to what the Phillies might be doing in 2013.