It may be spring but we're still dealing with winter weather. A wintry mix moved in Saturday, bringing rain and snow through the area. After the mix moved out, bitter cold temperatures remained.

A clipper moved into the region with mostly wet snow Saturday morning into the afternoon. Computer models were pretty consistent over the past several days showing this feature, with temperatures remaining slightly above freezing through most of the day as the snow fell.

Some of the snow stuck to pavement farther N&W of Philadelphia, in the Lehigh Valley or Poconos since temperatures were around freezing.
Most of the snow melted on paved surfaces though there was some accumulation on grassy surfaces. Up to 2 inches of snow fell in Chester County while 2.5 inches of snow fell in parts of Delaware County.

Areas N&W of Philadelphia saw wet snow or a rain/snow mix at times. The Philadelphia area saw a fluctuation of rain and snow, and NJ and DE saw a snow and rain mix as well.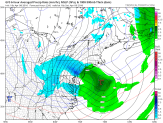 The wintry mix moved out Saturday evening but the cold temperatures remained. Temperatures are dropping into the 20s and a Freeze Warning went into effect for the region 8 p.m. Saturday and will last until 10 a.m. Sunday. During the Freeze Warning below freezing temperatures will kill sensitive vegetation that's left unprotected. Due to the Freeze Warning, a Code Blue went into effect in Philadelphia at 6 p.m. Saturday and will last until Monday at 6 a.m. Officials urge anyone who sees a person in need of shelter to call Project HOME at 215-232-1984.

Local
Breaking news and the stories that matter to your neighborhood.
Sunday morning will be sunny but very cold. Temperatures will rise to around 50 degrees by the afternoon which is still below the average temperature for this time of year(normal is 62). Clouds will also increase during the day. There's also a chance for more rain Sunday overnight into Monday morning.

PHILLIES HOME OPENER

We finally start warming up for opening day on Monday! Highs will be around 60, mix of sun and clouds, and there's a chance we could see a passing shower. It would be ahead of our next cold front set to move through on Tuesday, which will be the day we see the most rain.
[[375141671, C]]