A man accused of snatching a 7-month-old boy who is assumed to be dead could eventually face the death penalty, according to police.
Ummad Rushdi is accused of kidnapping a boy from an Upper Darby, Pa. home and dumping the boy's body. Hazma Ali's body however hasn't been recovered.
Rushdi wasn't officially charged with the child's death on Monday as expected. Instead, his preliminary hearing was continued to September 9. Upper Darby Police did say however that officials are "exploring homicide charges and potential death penalty" for Rushdi.
Delaware County Deputy District Attorney Stephanie Wills says she expects to charge Rushdi with Ali's murder even if they don't recover
Rushdi, 30, was arrested earlier this month in York County, Pa.
Police suspended their search for Ali Friday. The baby went missing Aug. 4 when he was taken from an Upper Darby home.
"We're looking for a baby but it's like looking for a needle in a haystack," said Upper Darby Superintendent Mike Chitwood during a press conference Thursday. "There has been a land search, there has been a sea search and we have not been able to find him. The one person who knows where that baby is, is the scum bag that killed that baby...pure and simple."
Police say Rushdi may have injured the child a few days before he disappeared. He is the boyfriend of the child's mother, according to police. Investigators believe that Rushdi murdered the baby and disposed of his body because he felt the child was hindering his relationship with the mother.
Searches have been conducted in Upper Darby and in York and in Columbia Counties, where dogs led investigators to a pillowcase that belonged to Rushdi. They also have searched parks and a landfill.
"The areas that we've searched were locations that we had reasonable suspicion that the baby might be. We believe that the baby was placed in a makeshift grave and moved," said Chitwood.
Chitwood said that Hamza's mother, Zainab Gaal, wanted to take the boy for hospital treatment a few days before he disappeared, because Rushdi apparently injured his arm or shoulder. Police said Gaal was prevented from doing so by Rushdi's family.
"It's been a difficult investigation," said Chitwood. "I know that mother has pleaded many times with the defendant to tell her where the baby is. Until he is willing, if ever, to tel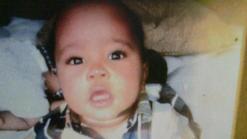 l us where that baby is we are kind of stuck."
Police having been working to build a case against Rushdi.
"We met with the District Attorney's Office yesterday our goal is to get charges filed against him whether we find the baby or don't find the baby," said Chitwood.
Police have said Jawwad Rushdi, Ummad's brother, told them that suspect admitted shaking the boy to death and burying him.
Police suspect Rushdi may have first buried Hamza near the Susquehanna River town of Columbia, as his brother's vehicle became stuck there on Aug. 4. They think he may have then exhumed the boy's remains and given him a religious burial in another location.
Police asked for information about either Ummad or Jawwad Rushdi, as well as a leased cab that Jawwad Rushdi drove. They asked people for information related in particular to the time period Aug. 4-6.
"We definitely need some luck but we also want people to pay attention to what they might have seen that could help in this investigation," said York Police Captain Tom Gross.
Police have said Jawwad Rushdi has been cooperative, and he hasn't been charged with a crime.
Ummad Rushdi is charged with kidnapping, recklessly endangering another person, among other charges and remains jailed unable to post $750,000 bail, according to court records.
Published at 10:25 AM EDT on Aug 19, 2013 | Updated at 3:23 PM EDT on Aug 19, 2013