Police arrested one of the two suspects connected to a shooting at a Philadelphia Gentleman's Club last May.
On May 11, at 1:55 a.m., police say Henry Pettigrew, 21, and Shamarr Pitts got into an argument with management and bouncers at the Purple Orchard Gentleman's Club on the 3200 block of South 61st Street.
"There was an argument over music," said Philadelphia Police Lieutenant John Walker.
After the two men were kicked out of the club, police say Pettigrew returned minutes later, armed with an AK-47. Surveillance captures a man, who police identify as Pettigrew, firing several shots at a car in a parking lot. The video then shows the suspect slipping and falling twice before opening the door of the club and spraying gunfire inside.
Credit: Philadelphia Police
Police say an innocent bystander sitting inside his car was struck.
"The bullet went through the back of the car and through the victim's side," said Walker. "Luckily he walked out of the hospital."
Pettigrew then entered a light-colored sedan driven by Pitts and the two fled the scene, according to investigators.
On Tuesday, police say they found Pitts armed with a .22 caliber handgun inside a home in Lansdowne. He was arrested and is currently being held on a drug charge in Darby. He will eventually be charged in Philadelphia, according to investigators.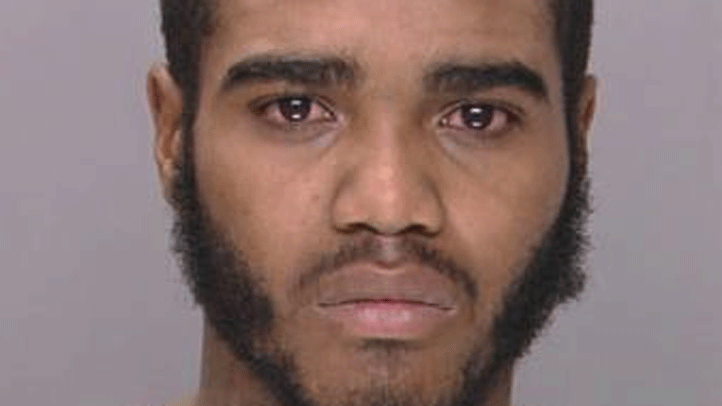 Police say Pettigrew is still on the loose. He is described as a man with a thin beard standing 5-foot-11 and weighing 180 pounds. His last known address is 5538 Belmar Terrace.
According to court records, Pettigrew was arrested in 2008 for a dozen charges-- including several charges involving firearms. All twelve of those charges against him were withdrawn.
Pettigrew is considered armed and dangerous. If you have any information on his whereabouts, please call Philadelphia Police.
Published at 7:34 PM EDT on Jun 4, 2013