A ground stop halted American Airlines flights bound for the airline's Philadelphia International Airport hub for nearly two hours Wednesday morning.
American spokeswoman Victoria Lupica said the airport's division of aviation had a planned maintenance power outage from 1 to 4 a.m. Computer Problems Delay American Airlines at PHL
When the power came back on, American's internet access remained down, Lupica said. The outage, which impacted the earliest departures Wednesday morning, prevented the airline and passengers from printing boarding passes. Video Shows Harrison Ford's Near-Miss While Landing Plane in Calif.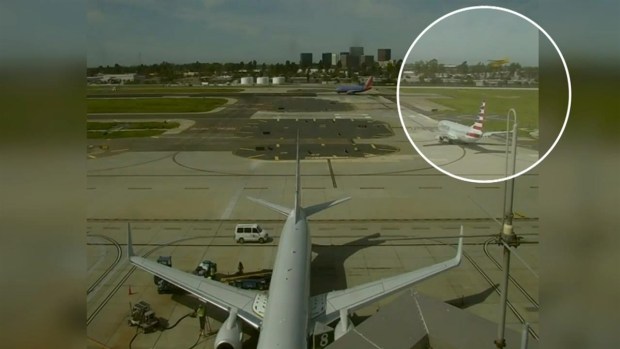 The airline had to manually check bags during the outage. Lines at baggage counters quickly backed up.
Around 6 a.m., the Federal Aviation Administration issued a ground stop for all American flights destined for the airport.
The FAA lifted the ground stop shortly before 8 a.m. and announced that American's computers were running once again.
MAJOR backup for @AmericanAir passengers at @PHLAirport, we're told a system outage @NBCPhiladelphiapic.twitter.com/a3GuvGYX6B

— Pamela Osborne (@PamelaOsborne) February 22, 2017
During the outage, Lupica suggested passengers print their boarding passes prior to arriving at the airport or check in virtually, since that system continued to work on mobile devices.
Travelers were urged to check their flight status prior to arriving at the airport and to give themselves extra time to deal with potential delays.
Earlier @AmericanAir computer issue at PHL not affecting other airlines here. Ground stop canceled for American flights departing to PHL.

— PHLAirport (@PHLAirport) February 22, 2017
The airport stressed that the issue only impacted American flights and not other airlines.