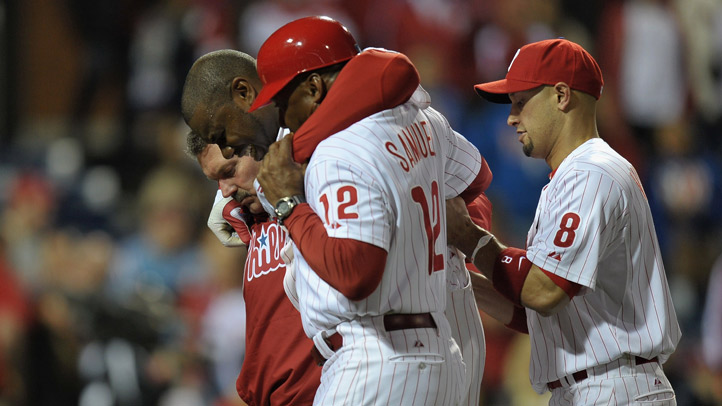 In 2010, Ryan Howard was the recipient of a five-year, $125 million contract extension that will keep the slugger in Philadelphia through the 2016 season.

At the time, the deal seemed unnecessary, as Howard wouldn't be eligible for free agency until after 2011. However, given the fact that other first basemen like Albert Pujols, Prince Fielder, and (at the time) Adrian Gonzalez would also be free agents, it made some sense in that the Phillies didn't want to risk his value being dictated by the market. As such, they bet that they deal they gave him would be considerably less expensive than the deal he would have signed as a free agent.

Since then, his deal has come under much criticism, due to his declining power and inability to make the adjustments necessary to remain a feared power hitter in the National League, something that is routinely exploited by opposing teams.

And on Friday, Sports Illustrated's Joe Posnanski listed Howard's contract among the ten worst in baseball. He came in ahead of former Phillie Jayson Werth, Alfonso Soriano, and Adam Dunn, but behind Vernon Wells, Alex Rodriguez and Carl Crawford.

Here is a bit of what Posnanski (who is a really, really good writer, by the way) had to say about the deal...
The Ryan Howard deal is a looming disaster, and it hasn't even started yet. He turns 32 in November, and players with his skill set sometimes take a precipitous fall in their early 30s. The truth is, with Howard, the decline started a while ago.

If he can get healthy, and if the Phillies keep him in the middle of the lineup, he will keep driving in 100 runs. And maybe that will postpone the inevitable realization that Ryan Howard is becoming a less and less useful player all the time.


It's a fair criticism, and one that should be leveled at Ruben Amaro. After all, he was the man behind the deal, and his impatience to let the market evolve and his decision to offer a rather unnecessary contract extension could come back to bite the Phillies, if it hasn't already.

It's a bitter pill for Phillies fans to swallow, but the fact is that Howard is on the wrong side of 30 and has been declining for the past two seasons. It's possible that his sprained ankle in 2010 carried over, and it's no secret that he had to deal with a foot injury late in 2011, so there exists a possibility that the last two seasons were the product of injury, and not of age.

That said, a $125 million deal over five years for a player who will be 37-years-old at the end of it is not terribly ideal for a team that has made no secret about the fact that they are aging and are wanting to take strides to getting younger.

And now that Howard is going to be sidelined for a considerable amount of time following surgery to repair his ruptured Achilles, it's all they can do to hope that it's not an entirely sunk cost.