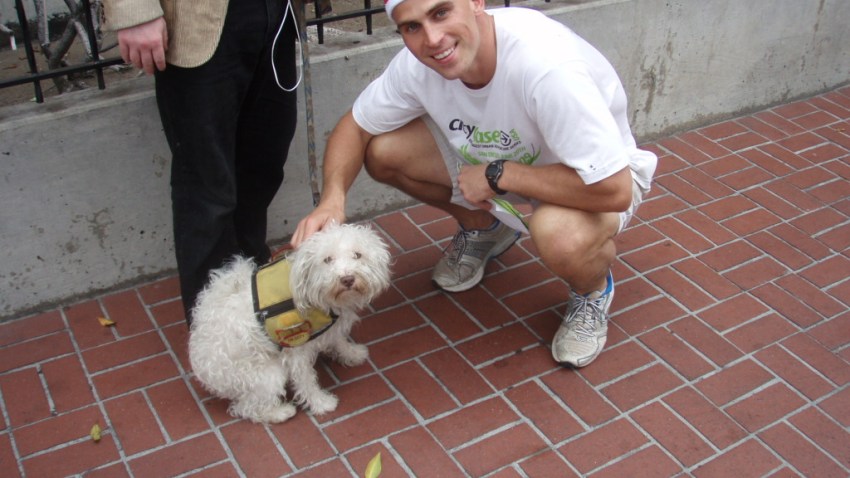 While you may think you know your tea, Peter Marino has you beat. He's a walking encyclopedia of just about everything there is to know about the beverage that we enjoy both hot and cold. No wonder he and his wife Manelle, a fifth-generation tea merchant, opened Capital Teas in 2007, a high end tea shop/bar that may have you rethinking supermarket tea bags. With a new location in Center City, the Philly native discusses tea, sniffing bars, and his diverse resume.
---
You've been a former nuclear submarine officer, attorney, consultant, real estate developer among other things. Is the tea business just as exciting?
Local
Breaking news and the stories that matter to your neighborhood.
Yes, it's exciting in its own way. The tea industry is growing very fast in the United States right now, and it's really fun to be part of a revolution in taste. You may not know this, but tea is the second most-consumed beverage in the world behind water. And we, in the United States, are now catching up with the rest of the world and experiencing the wonderful taste of tea. Capital Teas is really proud to offer something at the forefront of that taste revolution. I think that in any business, to be successful you need to have extreme product knowledge, a passion for what you do, the ability to think quickly on your feet, and to innovate. We innovate every single day here, we think on our feet, I'm totally passionate and I learn every day. I learned a lesson a long time ago in the navy which I apply to everything I do and I certainly do at Capital Teas. That's 'Don't expect what you don't inspect.'
Right now, Capital Teas is mostly in the DC area. What was the reasoning behind opening a Philly location?
Well, I grew up in the Philly area. I went to St. Joe's Prep here in Philly. My parents and one of my younger brothers still live in the area. And I ran a business called XRT here in the 1990s. I was very proud to run that business, a very successful software company, and it was great to be based in the Philadelphia area. Subsequent to that, I moved to the D.C. area and lived in Annapolis for over ten years so when we started Capital Teas in 2007, it was there. Finally, now that we're back in Philly, I consider this a homecoming. I'm proud to add Philadelphia as our second major city focus after Washington, D.C. and to reacquaint all of my old friends and acquaintances with Capital Teas.
Your wife's family has spent a long time in the tea trade. Is your own family into any certain business?
I always enjoyed tea. I grew up appreciating tea. My grandfather was in Toronto and my father grew up there so they certainly had a strong tea tradition there, but I didn't know then what I know now about tea, I continue to learn every day, and my passion grows for tea every day. My family has a long background in the tech sector. My father's been a computer pioneer since the 1950s and we're all pretty entrepreneurially oriented. In fact, my youngest brother also runs and operates his own company. Overall, I think I like doing things that improve or enhance the human experience while giving us the flexibility to create new experiences and I'm very happy to do that with tea right now.
How is Capital Teas different from other businesses you've started?
This is the first consumer business that I've run. All the others were B2B businesses so it's a lot more fun now because we have a much broader demographic of customer and we meet the public, educate them, enjoy their presence. It gives us the flexibility to create new experiences for everybody that comes in. It's something to greet somebody, to take them through one our sniffing walls in our stores, to show them the different tastes, nuances, and smells of tea. And when they leave, they shake your hand and you say 'Wow, they really learned something.' Whether or not they buy something, they've had a great educational experience and we aim to do that inspiration; our mission is to educate people and inspire lives through the wonders of tea, one cup at a time.
What inspired you to go into business/entrepreneurship?
I've always had a strong and fervent desire to create new things, to forge my own path, to build upon past experiences, to venture into new arenas. I'm not afraid to take some pretty significant risks when I believe there's a reasonable chance to succeed. I credit much of that to the family in which I was raised and, an example, my dad who's now 85 recently purchased a new business with one of my younger brothers and he's working daily to make that business better. So, I come from this line of entrepreneurs. I suspect I'll be doing the same 35 and maybe even 50 years from now and I think that sort of entrepreneurship keeps us alive and fresh, and I must say it's a lot of fun.
What do you think best sets you apart from other tea shops?
There are many great tea shops in America, but very few of them have gone beyond a couple stores. So, we are now in a unique spot with our size. We can maintain the intimacy of a small tea business, but with our multiple stores, we have the ability to source some amazing teas, great teaware, superb packaging to help all of our clients, and to build a team that is knowledgeable and educational to serve the public. We've also established a bit of a unique spot by wholesaling to some amazing restaurants. We sell tea to quite a few top restaurants on the East Coast; we hope to extend that presence pretty dramatically into the Philadelphia scene which I know is full of amazing and great restaurants. We pride ourselves on continual innovation. We're always trying to be at the forefront: we are the first to embrace a multisensory experience in the store with a sniffing wall, we are the first to come up with brewing tea in beer and wine. We have several innovations coming in the near term. Within a month we will be the first specialty tea company of our type to release K-Cups with a high-end, organic specialty tea. We try to be at the forefront and innovate every day.
Do you have a bitter rivalry with coffee sellers?
No, not at all. We respect all beverage purveyors and I'm not ashamed to say that I like french-pressed coffee. I also like craft beer and fine wine. All of these things are about cultivating an amazing taste and having the cultural experience behind the beverage and I think that coffee is great too, but tea has a big advantage. I tease my coffee industry friends that they sell one flavor in varying intensities. We sell over 200 flavors in teas and infusions which have totally unique taste profiles. As we take customers in to explore the tea world, we have an awful lot to offer them.
What has been your favorite memory with Capital Teas?
My favorite memory with Capital Teas is that for the past few years, I've been asked to be the kickoff speaker at the business boot camps of the World Tea Expo, the biggest international tea conference in North America; it's typically in Las Vegas or Long Beach. I've been able to educate and inspire hundreds of people from dozens of countries on what it takes to start and to succeed in a tea-related business. These are entrepreneurs and smart people who love tea and I've been able to be their lead speaker. There's nothing more memorable than watching the graduates come back the following year and to tell me the successes that they've had. Imparting this lesson and helping them succeed really is memorable for me. And one would say, 'Why would you wanna help a competitor grow?' I don't consider any of them competitors, I consider them all colleagues in the same business of advancing the tea sector so I enjoy doing that and I'm proud to be able to participate in that way.
What's the most exotic country you import tea from?
I think that the definition of exotic depends on your own life experiences. Certainly, if you live in Sri Lanka, Sri Lanka's not necessarily exotic to you, but we import teas from 18 countries, many of which I've yet to visit. I truly hope to visit all of them in the coming years. I think the most significant for us is Sri Lanka because it goes to the heritage of Capital Teas. My wife's family has been in the tea business for five consecutive generations and we actually import tea from the estates that her great-great grandfather started planting in the 1870s. Today, Sri Lanka is the world's second-largest exporter of tea and we've forged a strong relationship the Sri Lankan tea industry. We even had a chance to tour the Sri Lankan Tea Board through one of our stores in Bethesda, Maryland. In fact, they were fascinated by the way we put tea in beer. Since Sri Lanka's civil war ended, they've seen amazing growth in the past decade and their climate growing conditions allow for some really wonderful teas that we're happy to import.
In your opinion, what is the best way to enjoy tea?
I think the best way to enjoy tea is to make it part of your daily ritual. It's not something just to have on a special occasion or when you're sick or with your grandparents or when you're going to high tea. I personally can't imagine a day without tea. I drink many, many cups of tea every day. It's more than just the health benefits attributed to tea. The way I look at tea is it infuses well-being so I want to be infused with that well-being myself and encourage others to do the same. As tea becomes part of your daily ritual, you begin to not only love it, but to be passionate about it. So, wether it's in a formal setting, in your car, at your breakfast table, or even sipping it as you run, I think making it part of your daily life is a life-enhancing experience.
The Philly branch of Capital Teas is located at 1804 Chestnut Street, Philadelphia, PA 19103