A patient in Dauphin County, Pennsylvania is the first confirmed case of a more contagious coronavirus variant that fueled aggressive spread and forced a national lockdown in the United Kingdom.
The variant, B.1.1.7 has not been shown to have different symptoms or cause more severe symptoms in patients, experts have said, while cautioning that much is still unknown about it. The U.S. recorded its first case of the variant in Colorado last week, in a young man who had no history of travel. Other cases popped up in California, New York and Florida. The man infected with the virus variant in Florida also had no travel history.
The mutations in this coronavirus variant seem to allow for easier spread.
Pennsylvania Health Secretary Rachel Levine said in a statement that the patient in Dauphin County tested positive after international exposure, and is well after having only mild symptoms. Contact tracers found, identified and are monitoring the patient's close contacts.
Frederic Bushman, a microbiologist at Penn Medicine, told NBC10 that genetic sequencing work has shown what makes the UK variant of the virus different from other known versions.
The UK variant has mutations that changed the spike protein, which the virus uses to break into human cells in an infection.
"There's been quite a bit of discussion and a little bit of evidence that maybe this virus is a little better at landing on human cells and entering them as a result of this," Bushman said.
(The current Pfizer and Moderna vaccines help the body prepare to counteract these spikes, and are expected to work against this variant too.)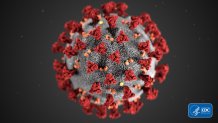 The state has been sending 10-35 random samples to the CDC biweekly since November. The CDC and a few specialized labs, including Bushman's, are able to sequence the genetic code in a virus sample to determine whether it is the variant.
The lab has sequenced about 7500 genomes so far, or 50 a week. Looking at the genetic code for so many different samples of the virus has helped understand how it spread in the pandemic, Bushman explained.
As the first wave hit in March and April 2020, samples from Philly patients around that time had similar genetic code to the versions of the virus seen in New York, he said.
The sequencing can also show if an outbreak might have occurred. For example, if a cluster of patients all display the same genetic version of the virus, then it's likely they contracted it in the same place.
The lab hasn't confirmed a case of the UK strain in Philly yet, but it could show up as they continue their work. The lab is limited more by the volume of samples it receives than its ability to test them, according to Bushman.
"If it's really the case that it's more spreadable, which seems likely, I think we'll see it in Philadelphia. It's probably here already and we just haven't spotted it," Bushman said.
"If there's a bunch of different variants and they infect people, and one spreads a little more in one generation, then it's more represented, so then in the next generation if spreads a little more. There are more people that it's launching from, and so it's a larger proportion."
Earlier this week, Philadelphia Health Commissioner Dr. Thomas Farley also said he wouldn't be surprised if it were found in our area.
Officials said they'd continue to emphasize safety after seeing the case of the variant.
"There is still much to learn about this new variant, so we need to remain vigilant and continue to urge Pennsylvanians to stop the spread by washing their hands, practicing social distancing, avoiding gatherings," Levine said.