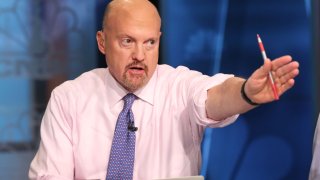 (This article was sent first to members of the CNBC Investing Club with Jim Cramer. To get the real-time updates in your inbox, subscribe here.)
What I am looking at November 30, 2021:
Second thoughts about omicron related to downbeat talk by Moderna's Noubar Afeyan co-founder of Moderna (MRNA) who says the strain poses serious threats and Bancel's interview with the FT was much more downbeat than when he was on CNBC... told FT "material drop" in effectiveness... But still using several months time frame to solve things... lots of money on the line for Moderna... I have Dr. Topol on Mad Money tonight who has been the most right of the commentators save Gottlieb...
Square (SQ)... sell to hold at Bank of America, but still need visibility on cash app... Dorsey all in – will we get a mid-quarter update tomorrow?... focus turns to Afterpay.... Fits into Seller and Cash App systems...
Piper says Edwards Lifesciences (EW) is the best beat and raise story... I think it is better than Medtronic, which missed badly...
When will the activists come for 3M (MMM) which has so badly underperformed?
Ford (F)  will pass GM in number of EV sold according to Morgan Stanley's Jonas in 2021... calculates Mustang Mach-E selling 2,800 cars per month profitably,  150,000 next year-3.5% of volume.... I am convinced that is low
Factory output in China up for first time in a while according to November numbers... coincides with improving Baltic freight... should spur another Caterpillar (CAT) run... tiresome
Oil bear market?... Club members get ready to buy some Chevron (CVX) which makes a ton of money above $70...
Marvell Technology (MRVL)...BMO goes $70 to $80 on price target—remember high perf computing an 5G... Club name, reports this week... tends to sell off on the news…
Walmart (WMT)...Guggenheim says don't panic on loss of CFO Brett  Biggs... 1.5% dividend... 22 times 2022 earnings estimate... deserves premium…
Dollar Tree (DLTR) downgrade to neutral at Goldman Sachs... cites slowing low end consumer, declining traffic...expected improvements now priced in.   Further growth limited?
Solaredge (SEDG) downgraded by Morgan Stanley... up 17% in 3 months percent... more balanced risk reward so buy to hold.
JPMorgan analyst Tusa trashes General Electric (GE) again... says plan is far from original... no change, net leverage -despite better pension performance... neutral rating but he is relentless
10-year at 1.69% last week, now at 1.42%... Is the world stopping?
Wedbush cuts Twitter (TWTR) price target from $69 to $52... lower multiples...internal candidate as CEO not a surprise
The CNBC Investing Club is now the official home to my Charitable Trust. It's the place where you can see every move we make for the portfolio and get my market insight before anyone else. The Charitable Trust and my writings are no longer affiliated with Action Alerts Plus in any way.
As a subscriber to the CNBC Investing Club with Jim Cramer, you will receive a trade alert before Jim makes a trade. Typically, Jim waits 45 minutes after sending a trade alert before buying or selling a stock in his charitable trust's portfolio. If the trade alert is sent pre-market, Jim waits 5 minutes after the market opens before executing the trade. If the trade alert is issued with less than 45 minutes in the trading day, Jim executes the trade 5 minutes before the market closes. If Jim has talked about a stock on CNBC TV, he waits 72 hours after issuing the trade alert before executing the trade. See here for the investing disclaimer.
 (Jim Cramer's Charitable Trust is long F, MRVL.)
Copyright CNBC