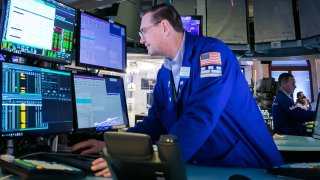 U.S. Treasury yields fell Tuesday ahead of a key inflation reading set to be released Wednesday.
The yield on the benchmark 10-year Treasury note dipped 3.5 basis points to 1.57% at 4:10 p.m. ET. The yield on the 30-year Treasury bond gave up 7.5 basis points at 2.085%. Yields move inversely to prices and 1 basis point is equal to 0.01%.
The International Monetary Fund on Tuesday lowered its global growth forecast, citing supply chain woes and the pandemic.
"We're seeing major supply disruptions around the world that are also feeding inflationary pressures, which are quite high and financial risk taking also is increasing, which poses an additional risk to the outlook," IMF economist Gita Gopinath said in a press release.
The IMF said central banks like the Federal Reserve should be ready to tighten monetary policy if prices run too high.
The September consumer price index is due out at 8:30 a.m. ET on Wednesday, which could also influence when the Fed decides to pull back its pandemic-era asset purchase program.
Minutes from the Fed's latest policy meeting are also set to come out at 2 p.m. ET on Wednesday, which investors will pore over for clues as to the central bank's timeline on tapering its bond buying program.
Job openings in August fell by more than half a million to 10.4 million, according to the Labor Department's latest Job Openings and Labor Turnover Survey released Tuesday.
Copyright CNBC