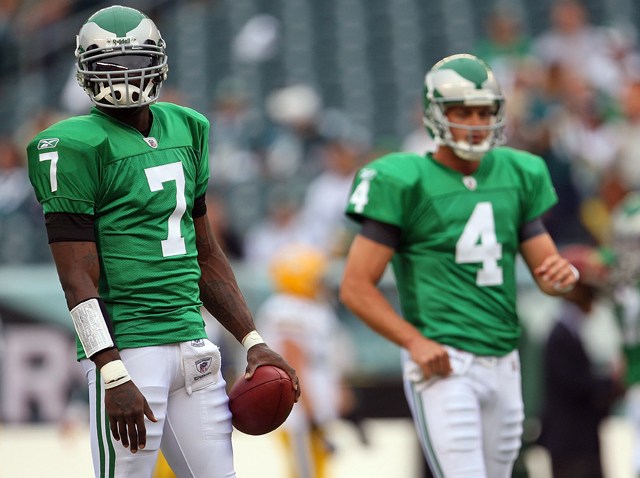 It looks like Michael Vick's return to starting in the NFL is going to last more than just one week.
The Eagles announced Tuesday that Vick, rather than Kevin Kolb, would start Sunday at Jacksonville. And the move had nothing to do with any possible lingering effects from the concussion that knocked Kolb out of the Eagles opener.
The decision was made largely due to Vick's play on the field, said coach Andy Reid who said he made the final decision to go with Vick.
"Michael Vick is playing out of his mind right now and that's a beautiful thing," said Reid as he addressed the media.
"You're talking about Michael Vick as one of the best quarterbacks right now in the National Football League."
Reid defended Kolb and said that he had no plans of trading the QB he anointed as Donovan McNabb's successor after sending D-Mac to D.C.
The move added fuel to the QB controversy fire especially because of how the announcement was made.
"The Philadelphia Eagles today announced that head coach Andy Reid has named Michael Vick as the team's starting quarterback," said Eagles spokesman Derek Boyko Tuesday.
Reid isn't worried about concerns that Vick, a former felon convicted of running a dogfighting ring, is now the face of the Eagles franchise. Big Red feels Vick has done enough to repair his image, he said.
Leave it to the Birds to make a major announcement like this right before Roy Halladay toes the mound for the Phillies as they face off against second-place Atlanta Tuesday night. The Eagles did the same thing just hours before the Phillies season opener when they announced that they had traded Donovan McNabb to the Redskins.
Looks like no matter what happens at the ballpark against the Braves that the Eagles, not the Phillies, will have the back cover of the Daily News.