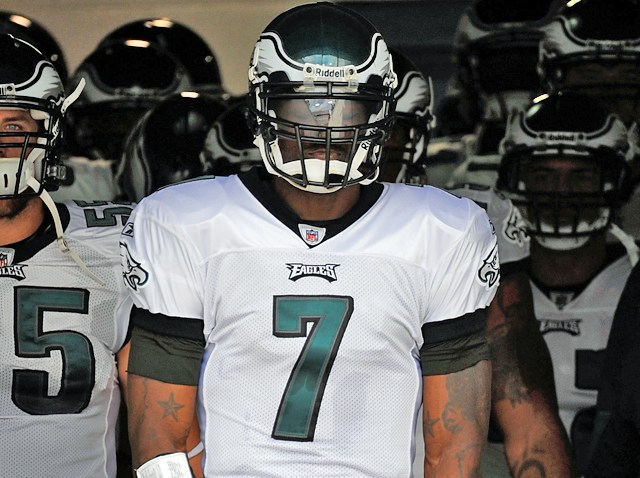 It was the Michael Vick show Sunday as the Eagles used a big effort from their quarterback and a strong day from their defense to destroy the Jaguars 28-3.
Andy Reid's decision to bench Kevin Kolb in favor of Vick looks like a good one so far. Vick, who was named the permanent starting QB Tuesday, may have turned some detractors around with his performance.
No. 7 put up 291 yards and three touchdowns on 17-for-31 passing -- good for an impressive 119.2 passer rating. For good measure Vick added five rushes for 30 yards and another TD.
"(Vick) played his heart out today... It's a tribute to what he has done and how he has handled things." Reid said. "I'm proud of him for doing that."
Vick's success on the field could come as bittersweet for Eagles fans still upset about his dogfighting past. But Sunday he looked like a leader who had left that checkered past in the rear view.
"I always believed I could come back and play quarterback," Vick, who missed two years while serving time for his role in a dogfighting operation, told the AP. "It was all about me getting an opportunity and I got it and it's time to make the most of it."
His favorite targets were young wide receiver DeSean Jackson and Jeremy Maclin. D-Jax hauled in five passes for 153 yards and a score while Mac Attack caught four balls for 83 yards and two TDs to bring his season total to four scores -- tying his total from his rookie season.
The Eagles wideouts alone had more yards than Jacksonville's entire defense. The Jags managed only 184 total yards to 373 total yards for the Eagles.
After giving up a league-high 59 points through the first two games the Eagles D hunkered down and allowed only a Josh Scobee field goal.
The D looked sharp while sacking Jags QB David Garrard six times including a duo of sacks by Pro Bowler Trent Cole and Trevor Laws' and Nate Allen's first career sacks. Breaking the five sack plateaus has proved fruitful for the Birds. Under Reid they are 25-4-1 when they racked up five-plus QB take downs.
After giving up a league-high 59 points through the first two games they hunkered down and allowed only a Josh Scobee field goal.
The win coupled with losses by the Giants and Redskins put the Eagles in sole possession of first place in the NFC East. Next week Donovan McNabb returns to Philly as the Skins come to the Linc.
It seems that defensive back Asante Samuel -- who had an interception and three tackles in J-Ville -- is ready:
"Heard outside #Eagles locker room: Asante Samuel saying, 'We got McNabb' next," tweeted the Inquirer's Jeff McLane.
I bet that D-Mac wasn't expecting the resurrected Vick to be the starter on the other sideline.
Vick seemed to not be so ready to get into McNabb's homecoming game.
"I'm not getting involved in that," Vick told the AP. "I'm not getting involved in Donovan McNabb-Mike Vick controversy."
Hold on wasn't it a Kolb-Vick controversy. Guess you can never tell with how the 2010 Eagles season has played out so far.
Copyright AP - Associated Press