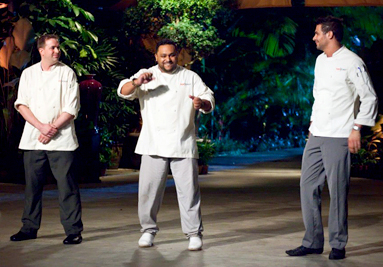 After the big win, we called up Top Chef Kevin Sbraga to find out what he plans to do with the $125k prize money. The Jersey-based toque got cagey about committing to one cuisine, and described how he's going to devise "the single best dining experience in all of Philadelphia."
What will you do with the money?
I'm going to use it as seed money to start my own restaurant. I see it as very small, 20 to 40 seats at the most, high-end, a lot of attention to detail. I don't want it to be just food and service. I want it to be an experience.
What sort of cuisine?
No boundaries. It's going to be a combination of everything. It could have a French twist with Asian ingredients. I don't know if there's a word or label out there to describe it.
Where will you open it?
Mostly likely in Philadelphia. I live about 20 minutes outside of the city, and I love it. I don't have a space, or a lease signed, but I've been looking all over: Rittenhouse Square, Washington Square, the Graduate Hospital area. I'm pretty much considering anything right now. I have a couple names in mind, but I haven't released that yet.
How pricey will it be?
Depending on the size of the restaurant, anywhere from $75 to $125 for a prix-fixe menu. The menu will most likely change every day. Or at least there will be parts of it that change everyday. It's not going to be a place where you go and have a couple appetizers and leave—no a la carte.
What will the beverage program be like?
A rounded experience. There will definitely be a great wine list, unique cocktails, and beer as well. I don't want to forget about coffee service and tea. Currently in Philadelphia, I don't think anyone is serving French press coffee. We have a great coffee company called La Colombe, and they have seven or eight different varieties and I'd like to be able to offer seven or eight varieties to my guests. Same thing with tea and water as well.
How do you think Philadelphians will react to your concept?
I think they're going to love it. There's nothing there like this. There's a lot of very good upscale-casual restaurants and for me to just build another that kind of blends in doesn't make sense. I really want to make a strong mark in the market, and make a statement for Philadelphia.
Will you be a one-restaurant man, or expand to multiple cities?
I see myself more as a one-restaurant man, but in saying that I may be involved in other projects and partner with other chefs. There's a lot of great talent out there that's not taken care of and I'd like to see that talent grown. Maybe I'll have a stake in another restaurant or maybe I'll be a silent partner.
Will you do casual partnerships or stick to high-end "no-boundary" cuisine?
There could be a wide range. It's very possible that I'll get involved in a bakery or a café. I know some people who are interested in doing that and I'd love to be involved—not in the day-to-day operations though. The goal is to open the single best dining experience in all of Philadelphia, and see what grows from there. Opening that first one is the most important thing.
Will you take on investors?
Absolutely. There's a lot of people that have reached out to me. Getting into business is sort of like a marriage and you want to take your time with it and make sure you're with the right people, people you can trust. I've been very careful about that. I haven't made any decisions yet.