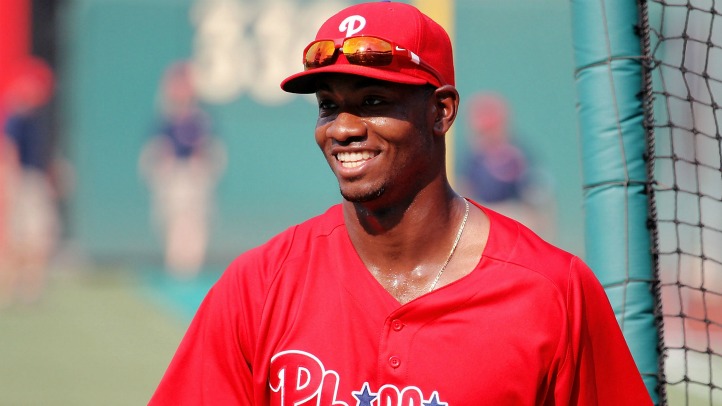 On Tuesday afternoon, during Michael Young's introductory press conference, Phillies General Manager Ruben Amaro Jr. was asked about how he plans to address the team's other pressing needs, most notably a right-handed corner outfielder who can hit for power.
Amaro, who is usually pretty tight-lipped about this sort of thing, spoke about the possibility of utilizing platoons in the outfield, and went as far as to suggest that a "double platoon" in both corner outfield spots was possible. And, although I disagree that platooning both corners is necessary (Domonic Brown should be guaranteed a full-time outfield spot in 2013), doing it for one of the positions is actually a good idea.
At present, the Phillies have five outfielders at their disposal: Ben Revere, Domonic Brown, John Mayberry Jr., Laynce Nix and Darin Ruf. With Revere slated to the be the full-time center-fielder and Brown the likely heir to one of the corner spots (at least, he should be), that leaves Mayberry, Nix, and Ruf to fend for the last spot. Ideally, you'd want to mix and match the three of them based on that day's pitching matchups in order to take advantage of their offensive splits, which would mean that Ruf and Mayberry would only start against lefties, and Nix against righties.
What this would do, ideally, is maximize the value of each player while hopefully improving the offense. And if you take the career averages of both Mayberry and Nix (I'm not including Ruf here, as he's very much a non-factor at the moment), you're left with one player who could put together a line of .268/.312/.497 with 17 homers over the course of a season. It's essentially all the production of a Cody Ross (career .783 OPS) but with better defense and at a fraction of the cost. It's not an exact science, but you can see how the Phillies don't necessarily need to spend a ton of money to get offensive production.
This also assumes that the Phillies don't make any other moves. There are a number of outfielders on the market that could fit into this scheme, including Ryan Sweeney (.293/.347/.402 vs RHP) and Scott Hairston (.276/.325/.500 vs LHP). Bringing in one (or both) of these hitters would potentially match the production of any free-agent outfielder currently on the market (Nick Swisher being the lone exception) at a fraction of the cost.
It's certainly an unconventional way of doing things, but these are unconventional times for the Phillies, and as such, they can't be expected to stay within the lines when it comes to filling out their roster.
And, double outfield platoons have been good to the Phillies in the past. The National League championship team in 1993 had Milt Thompson and Pete Incaviglia splitting time in left and Jim Eisenreich sharing time with Wes Chamberlain in right.