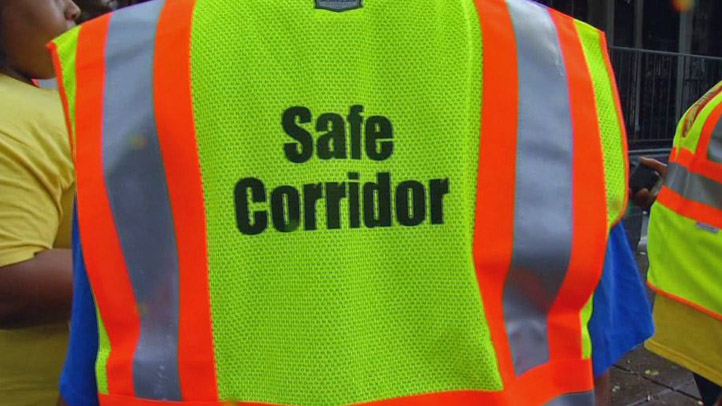 A group of Safe Corridor Monitors brought on by the City of Philadelphia to ensure kids safely get to school say the city's stiffed them on nearly two months' worth of pay. But city officials say the monitors were never hired.
Several Safe Corridor workers, who claim they were hired on a part-time basis to walk designated 'safe routes' between schools that have been shuttered by the School District of Philadelphia and buildings where students have been transferred, tell NBC10.com they're owed seven weeks of pay worth more than $1,200 and can't get an answer as to when the paychecks will arrive.
"We're working, we're keeping kids safe, we're putting in our time – rain or no rain – and we're not getting paid and not even an answer why we're not getting paid," said Greg Bucceroni. "The only answer I get is that 'The mayor's going to sign the check.'"
Bucceroni, who has covered routes around Roberto Clemente Elementary and Penn Treaty School, says he was trained, hired at minimum wage, given an ID badge and has been working 25 hours a week since the school year began in September.
However, Mark McDonald, press secretary for Mayor Michael Nutter, said the monitors haven't been paid, because the city never hired them.
"They didn't fill out job applications for paid jobs. They did child abuse clearances and the like. So, any ID's at this point are [for] the volunteer program," he said. "No one has yet been hired, nothing has been signed and no commitments have therefore been made."
Bucceroni says, during his time with the program, he's spotted several issues and even stopped a brawl between two groups of students after school a few weeks ago.
"There was, I guess, racial slurs thrown between ethnic kids and the white kids from the Fishtown-area and it escalated to a large disturbance on the highway. The white kids grabbed baseball bats and were going to swing at the black kids and it was myself, another Safe Corridor person and a police officer, we had to get in between to calm it down until other police officers could get there," he said.
Carmelo Gonzalez says he gave up a construction job to work for WalkSafePHL and is worried about paying bills.
"I gave up a job, working $80 dollars a day doing remodeling, to do this because this is my passion," he said.
Another Safe Corridor monitor, a mother who asked that she remain anonymous over concerns of retribution, says she's upset that she hasn't gotten paid, but that she's not as up in arms as her co-workers.
"I actually really enjoy what I do. I'm a mom and I get to make sure the kids are safe," the woman said. "I think that means more to me than getting paid."
The WalkSafePHL program was announced in August as a way to assuage parent's safety concerns now that nearly 10,000 students are traveling to new schools in the district – some in other neighborhoods. Run by the city's Town Watch Integrated Services department, the program has called for 260 volunteers to man the routes, but these staffers say they were promised different positions.
"It was said that I was going to be a 'super volunteer' and that I was going to be paid," Gonzalez said. "We were going to be supervising the volunteers in our area."
NBC10.com reached out to Anthony Murphy, who heads up Town Watch Integrated Services, but did not get a response.
McDonald said officials have been considering hiring some staff on a part-time basis, but haven't done so yet. He added that this is not a "he said, she said" situation.
"The employer, the city, has not extended paid job employment letters to anyone," he said.
Bucceroni said while that may be the case, he was told over-and-over again that he would be getting paid for his work.
"The city is flat-out lying," he said. "I need a job, why would I volunteer? I already volunteer enough."
Gonzalez said he was also told that the paychecks would be coming, but then late Tuesday, his supervisor told him that he would first have to go through an interview.
"They're screwing us over. He told me 'We're going to have to wait for the mayor to interview you before you get the job,'" Gonzalez said. "They don't know what's going on and what they're doing.
This isn't the first issue with WalkSafePHL. In September, several businesses designated as 'safe havens' for kids to use should they be attacked or encounter a problem told NBC10 they didn't know they were part of the program.
At that time, Murphy said interns were supposed to notify businesses over the summer and that the department would work to remedy that situation.
---
Contact Vince Lattanzio at 610.668.5532, vince.lattanzio@nbcuni.com or follow @VinceLattanzio on Twitter.